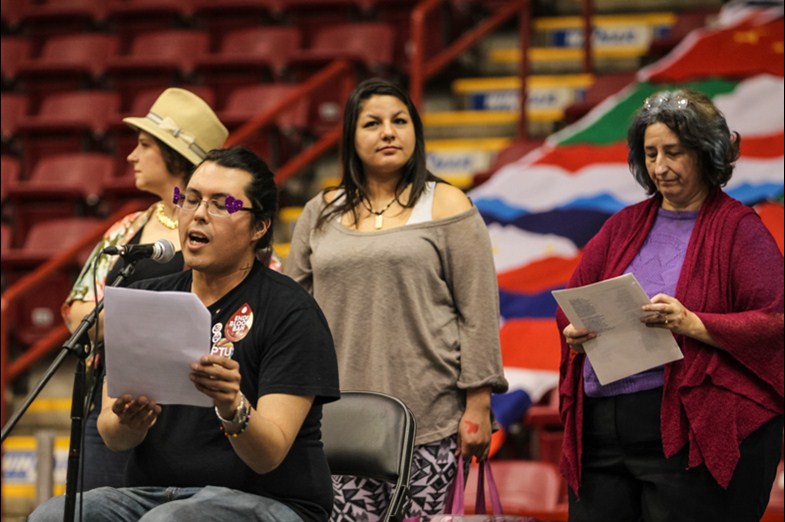 Today, at Passport to Unity, Indigenous Writer's Collective members read some of their work (shown above in a photo by SooToday.com's Donna Hopper).
The group, which hosted it's first Open Mic at the Art Gallery of Algoma in November, 2013, is well established and consists of accomplished, prolific writers.
SooToday.com will be bringing you samples of their work on a regular basis after the warm reception the
first
publication of their work received.
Special thanks to SooToday.com editorialist Joe Corbiere who gathers and submits work from the Indigenous Writers Collective.
This week's offerings mark the opening of Walking With Our Sisters, an exhibit which commemorates Anishinaabek children lost in the residential schools, as well as missing and murdered Anishinaabek women.
The exhibit opens to the public at Algoma University on Monday, May 5.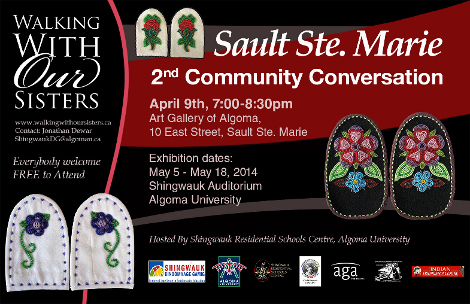 Dedication to Loretta Saunders
by Bernadette P.
Loretta Saunders
Never again will her smile shine
Unless a picture or poster is hung
Her words, her actions strengthen
As a bellwether to other women
Grim is the word that comes to mind
As I think of those left behind
To pick up the pieces and live
Knowing this life is never trivial or long
When will the inflexible become flexible?
When will the marplot stop meddling?
Who are the respectable?
What are the strong?
Strong and bold, soft and tender
Are the words shared about her
She was only at the beginning
When her life came to an end
Loretta's name will sadly join the others
Becoming one of the statistics
She wrote about in her studies
Murdered, missing and Indigenous woman
More than a statistic
With much more to give
Still teaching, still helping
Murdered, but never forgotten
A True Bellweather
She was a true bellwether
The breath that spoke was loud and clear
A breath that reached far from within
Deep down, the muscles of her diaphragm
Were as strong as the words she laid out on paper
Her willingness to learn and share to strengthen
A nation on the trivial losses of missing
And murdered women will poster her respectfully
She was a bellwether
Her unfinished work ~Never to be forgotten~
March 6/14
Loretta
by Sharon 'Dolly' Syrette
I'm sorry I never got to know you
I wish I had
But what little I heard
I do believe you were a woman
Of strength and perseverance
Your death
So grim, so meaning less
Has strengthened us all
And made us more flexible
On how we see the world
Never will this earth be the same
Without your presence
And your memory will never fade
March 6/14
For the Women
Bellwether is for the women that
Take the lead role in advocating
For the missing Aboriginal women
Who have been murdered in the country
Diaphragm is for the pictures of the women
Flexible is for the women
march 6/14
Understanding the Irony of the Loretta Saunders Situation
Rose Cameron
On Wednesday morning as I approached
The table to eat my toast
I reached over to grasp my cup
Of tea with my right hand
A newspaper, folded on the table
Laid, waiting to be picked up and read
I swing my teacup to my lips to
Savour the tea and with my right
Eye directing me to the picture of a young woman
In the newspaper
I reached down to pick up the newspaper
My eyes widened as I read the
Headline that a young Inuit woman
Was found murdered
My heart sank, paralyzed as I looked at
The young woman pictured in the newspaper
My spirit paralyzed and not knowing
How to take in the information
Auzhmanito', Auzhmanito' I thought
As I sat spiritually, physically,
emotionally and intellectually grim,
broken within
What I found baffling is, where
is the respectability of human life?
March 6/14