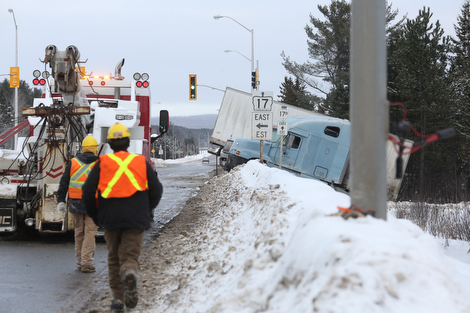 Sometime before 3:30 p.m. Wednesday a transport truck and trailer ended up jack-knifed in the snow drift-filled ditch at the Highway 17/17B intersection.
Electrical crews first appeared to work cutting power to the streetlamp, which was toppled by the rig.
Two heavy-duty tow trucks latched on to the cab and trailer to pull the transport and its load back on to the highway.
Police blocked traffic to and from the city, as well as traffic to Garden River First Nation, as the towing took place.
Multiple school busses, many filled with children, were left waiting in line with other commuters as the transport was pulled from the ditch.
There was no indication of what the transport was carrying, but none of the load appeared to be exposed during the initial collision or the recovery.
There didn't appear to be any injuries in the single-vehicle collision.