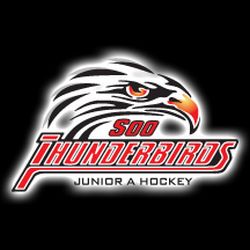 The Soo Thunderbirds wrapped up their final road trip of the Northern Ontario Junior Hockey League regular season on Sunday evening in Mattawa against the North Bay Trappers.
The Thunderbirds beat the Trappers 6-1 on Sunday to cap off a trip that saw the team win a pair of games and tie the Kirkland Lake Gold Miners on Friday night.
Gavin Burbach scored three times for the Thunderbirds in Sunday's win, which gives the veteran forward 46 goals on the season.
Darcy Haines set up four goals for the Thunderbirds in the win while Tyler jones had a goal and two assists for the Thunderbirds. Nicolas Tassone and Anthony Miller also scored in the win. Jaren Bellini chipped in with a pair of assists. Goaltender Brian Kment stopped 22 shots.
Colin Nicholson had the lone goal for North Bay in the loss while goaltender Evan Cormier stopped 43 shots for the Trappers.
The Thunderbirds record improves to 45-5-1-2 with the win. With 93 points, the Thunderbirds open up a 10-point lead over Kirkland Lake, though the Gold Miners have three games in hand and six game remaining on their schedule while the Thunderbirds have three. North Bay falls to 15-30-0-5 with the loss.
The Thunderbirds wrap up their regular season schedule with three games at home, beginning on Feb. 28 when they host North Bay at the Essar Centre.
In other NOJHL action on Sunday, Espanola skated to a 4-0 win over the Blind River Beavers.