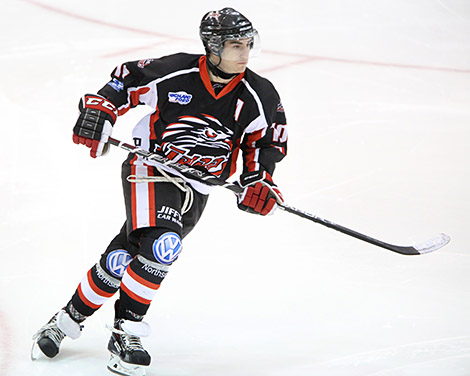 If game one is any indication, the Northern Ontario Junior Hockey League championship could be a lengthy series.
The NOJHL's top two regular season teams opened the league final on Saturday night at the Essar Centre as the Soo Thunderbirds took an early series lead with a 2-1 double overtime victory over the Kirkland Lake Gold Miners.
The two teams traded goals in the opening 40 minutes before skating nearly another 60 prior to the game winner off the stick of Thunderbirds captain Gavin Burbach.
Burbach converted a turnover in front of the Kirkland Lake goal into the game winner 5:12 into the second overtime period to give the Thunderbirds the series opener.
After being outshot in the opening two periods, the Thunderbirds would outshoot the Gold Miners 22-11 in the third period and in overtime, forcing Gold Miners goaltender Jeremy Pominville to make 40 saves in the loss.
Thunderbirds goaltender Brian Kment stopped 33 shots in the win.
The Thunderbirds opened the scoring as Eric Hillock scored just 3:37 into the game after a point shot by Owen Headrick from the right point missed the net and rebounded to Hillock to the left of the Kirkland Lake goal.
Jeremy Picard-Fiset had the lone goal for the Gold Miners in the loss.
Game two in the series is set for Sunday night at the Essar Centre. Puck drop is 7:30 p.m.
File photo by SooToday.com's Kenneth Armstrong