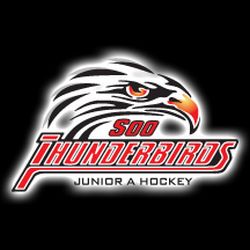 The Soo Thunderbirds wrapped up their spring tryout camp on Saturday and, although they didn't sign any players to cards, they made a pair of verbal commitments and were pleased with the camp overall.
The team verbally committed to defencemen Alex Morin and Matthew Murray, both Sault products as the camp wrapped up.
Morin played last season with the St. Mary's College Knights in the city high school league. The 17-year-old is a draft pick of the Ontario Hockey League's Plymouth Whalers. Murray played for the minor midget Soo Thunder. The youngster was passed over in the recent OHL draft.
Overall, Thunderbirds coach Jordan Smith was very pleased with the weekend camp.
"I was really pleased with the effort, the talent and the pace was very high," said Thunderbirds coach Jordan Smith. "The compete level was very high on the kids. It was really encouraging to see. There's a lot of young talent locally. It's exciting for not only our program but the midget program as well."
"This weekend was more of an evaluation tool to see who will fill roles in training camp but there are definitely some kids that made a major impact on us," said Smith.
The Thunderbirds bench boss spoke highly of the young players in camp, including Matt Caruso. The younger brother of Soo Eagles (North American League) defenceman Michael also suited up in the Soo Greyhounds development camp one week earlier.
"He worked hard out there and he always seems to work hard and he's a good kid," Smith said of Caruso.
Of the 33 players in camp, Smith did say the team expected to bring some back for their main camp, which is set for early August.