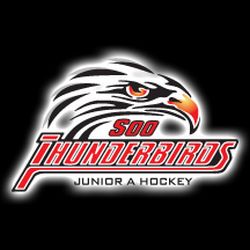 On a night when the city of Sault Ste. Marie honoured them for a 25-game winning streak, the Soo Thunderbirds suffered their first loss since Nov. 10.
The Thunderbirds dropped a 5-0 decision to the Kirkland Lake Gold Miners at the Essar Centre on Sunday afternoon, ending a pair of streaks in the process. Along with ending their 25-game winning streak, the loss also ended a winning streak on home ice that dates back to Feb. 23, 2013, a span of 26 games.
Kirkland Lake opened the scoring as Tanner Lafrance and Everett Thompson scored1:35 apart early in the opening period to give the Gold Miners a quick 2-0 lead, chasing Thunderbirds netminder Brian Kment from the game..
The visitors proceeded to score a pair of quick goals on Joel Horodziejczyk as well. Thompson and Austin Rust scored 22 seconds apart late in the frame to give Kirkland Lake a 4-0 lead heading into the first intermission.
After a scoreless second period, Samuel Wilbur sealed the Kirkland Lake win with a power play goal early in the third period.
Rust finished the afternoon with a goal and two assists while Wilbur had a goal and an assist to go along with Thompson's two goals.
Jeremy Pominville stopped all 31 shots he faced in the shutout.
Kment stopped four og six Kirkland Lake shots before being pulled. Horodziejczyk stopped 14 of 17 shots in just under 54 minutes of action in the loss.
With the win, the Gold Miners cut the Thunderbirds lead atop the NOJHL standings to six points with a game in hand. The Gold Miners record improves to 39-6-0-4 while the Thunderbirds fall to 43-5-0-2 with the loss.
With six games left in the regular season, the Thunderbirds now prepare for their final road trip of the season, which begins on Feb. 21 in Kirkland Lake before stops in Abitibi and North Bay