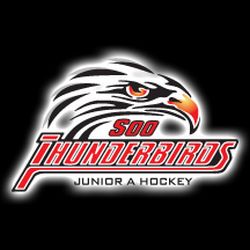 The Soo Thunderbirds continued their ascension up the Canadian Junior Hockey League rankings this week.
Having spent a lengthy time in the top five, the Thunderbirds moved up to second in the rankings this week. The team had spent the previous three weeks in third and have been in the top 10 all but one week this season.
The Thunderbirds are currently on a CJHL-high 19-game winning streak and have gone undefeated thus far on home ice. The Thunderbirds have put together a 37-4-0-2 record as they sit atop the Northern Ontario Junior Hockey League standings.
The Fort McMurray Oil Barons of the Alberta League overtook top spot in the CJHL rankings after holding down second last week. The Spruce Grove Saints, also of the Alberta League, dropped from first to fifth in the rankings. The Selkirk Steelers of the Manitoba League moved from fourth to third while the Carleton Place Canadians of the Central Canadian League are fourth, after moving up from fifth last week.
The NOJHL's Kirkland Lake Gold Miners, second in the league standings, were 14th in the CJHL rankings.
CJHL TOP 20 (Last week's ranking in brackets)
Fort McMurray Oil Barons (AJHL) (2)
Soo Thunderbirds (NOJHL) (3)
Selkirk Steelers (MJHL) (4)
Carleton Place Canadians (CCHL) (5)
Spruce Grove Saints (AJHL) (1)
Fort Frances Lakers (SIJHL) (7)
Kingston Voyageurs (OJHL) (9)
Steinbach Pistons (MJHL) (6)
Melville Millionaires (SJHL) (14)
Langley Rivermen (BCHL) (18)
Penticton Vees (BCHL) (NR)
Brooks Bandits (AJHL) (16)
Thunder Bay North Stars (SIJHL) (11)
Kirkland Lake Gold Miners (NOJHL) (13)
Powell River Kings (BCHL) (8)
Kindersley Klippers (SJHL) (12)
Les Pantheres de Saint Jerome (LHJAAAQ) (19
Aurora Tigers (OJHL) (15)
Truro Bearcats (MHL) (17)
Dieppe Commandos (MHL) (NR)
Honourable Mention: West Kelowna Warriors (BCHL), Battlefords North Stars (SJHL), Dauphin Kings (MJHL), Toronto Lakeshore Patriots (OJHL), Smiths Falls Bears (CCHL)
The CJHL Top 20 weekly rankings are based upon a variety of factors, including the league in which the team plays, winning percentage, win-loss record, total points accumulated, goals-for versus goals-against ratio, etc. The rankings are compiled in conjunction with NHL Central Scouting.