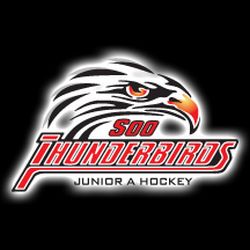 The Northern Ontario Junior Hockey League final kicks off on Saturday night as the Soo Thunderbirds host the Kirkland Lake Gold Miners.
The series pits the NOJHL's top two regular season teams against each other beginning at the Essar Centre as the Thunderbirds took the regular season title.
The two teams met eight times during the regular season.
The Thunderbirds won four of the meetings, once in overtime while Kirkland Lake took three. The final meeting between the two clubs on Feb. 21 in Kirkland Lake, ended in a 3-3 tie.
Kirkland Lake also has the distinction of snapping the Thunderbirds 25-game winning streak with a 5-0 victory over the Thunderbirds in Sault Ste. Marie on Feb. 16.
Thunderbirds defenceman Tyler Jones led the locals in scoring in the eight games against the Gold Miners with four goals and eight points in the season series. Gavin Burbach (three goals and two assists) and Darcy Haines (one goal and four assists) added five points each for the Thunderbirds.
Steven Babin and Samuel Wilbur had six points each for the Gold Miners against the Thunderbirds this season. Babin had two goals and four assists while Wilbur had three of each. Everett Thompson and Tanner Lafrance had four goals each in the season series while chipping in five points total. Austin Rust also had five points this season against the Thunderbirds.
Thunderbirds goaltender Joel Horodziejczyk, who has missed time in the playoffs since playing in the Thunderbirds playoff opener against Blind River, played in seven of the eight regular season contests against Kirkland Lake. The NOJHL MVP posted a 4-1-0-1 record with a 1.92 goals against average and 0.926 save percentage against the Gold Miners. Brian Kment, who has started, and won, eight in a row in the playoffs for the Thunderbirds but struggled in two appearances against Kirkland Lake in the regular season.
Jeremy Pominville saw action in four games against the Thunderbirds this season and posted a 1.41 GAA and 0.944 save percentage.
The full series schedule is as follows (all start times are 7:30 p.m.):
Game 1 – Apr. 12 in Sault Ste. Marie
Game 2 – Apr. 13 in Sault Ste. Marie
Game 3 – Apr. 17 in Kirkland Lake
Game 4 – Apr. 18 in Kirkland Lake
Game 5 – Apr. 20 in Sault Ste. Marie
Game 6 – Apr. 22 in Kirkland Lake
Game 7 – Apr. 24 in Sault Ste. Marie