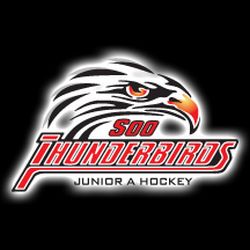 The Soo Thunderbirds continue to be dominant on home-ice.
Thanks to a 6-3 win over the Sudbury Nickel Barons on Friday night at the Essar Centre, the Thunderbirds winning streak at home has reached 20 games. The team has not lost a game on home ice all season.
The win also gives the Thunderbirds 18-straight wins overall and a 36-4-0-2 record to remain atop the Northern Ontario Junior Hockey League standings.
Gavin Burbach had two goals and an assist for the Thunderbirds in the win while Darcy Haines set up three goals. Nicolas Tassone, Brett Jeffries and Owen Headrick had a goal and an assist each for the Thunderbirds. Nathan Hebert set up two goals for the locals while Jaren Bellini also had a goal in the win.
Thunderbirds goaltender Joel Horodziejczyk stopped 27 shots in the win.
Ryan Punkari, August Jarecki and Bradley Bell scored for Sudbury in the loss.
Nickel Barons goaltender Michael Muzyka stopped 23 shots.
The Thunderbirds are 13 points ahead of the Kirkland Lake Gold Miners. The Gold Miners are 29-6-0-3. Kirkland Lake was also in action on Friday night, picking up a 5-0 win on home ice over the Blind River Beavers.
Sudbury's record drops to 12-21-0-6 with the loss.
The Thunderbirds return to action on home ice on Jan. 25 when they host the Elliot Lake Bobcats at the Essar Centre.