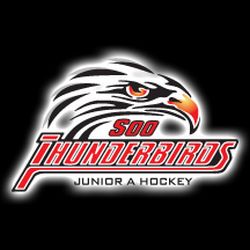 Game three of the Northern Ontario Junior Hockey League championship series saw something that only happened one other time this season.
With a 4-3 overtime loss, the Soo Thunderbirds lost their second straight game in the series and now trail the NOJHL final 2-1 to the Kirkland Lake Gold Miners. It marks just the second time the Thunderbirds have lost back-to-back games this season.
The last time the Thunderbirds lost consecutive games was when they dropped three in a row from Nov. 8-10 with three straight losses on the road against Kirkland Lake, Abitibi and North Bay. The losses preceded the Thunderbirds 25-game regular season winning streak.
Austin Rust scored 4:40 into the overtime period to give Kirkland Lake the win on Thursday night. Rust's winner came after Thunderbirds defenceman Medric Mercier tied the game for the visitors at 19:49 of the third period to force the extra frame.
Darcy Haines had a goal and an assist for the Thunderbirds in the loss while Jaren Bellini assists on a pair of goals. Gavin Burbach also scored. Thunderbirds goaltender Joel Horodziejczyk, making his first start for the Thunderbirds since game one of the Thunderbirds opening round series against Blind River, stopped 22 shots.
Rust had a goal and an assist for the Gold Miners while Everett Thompson assists on a pair of goals in the win, including the game winner. Steven Babin, Mathieu Lecompte and Samuel Wilbur also scored for Kirkland Lake in the win. Goaltender Jeremy Pominville stopped 26 shots.
The series continues on Friday night with game three at Kirkland Lake. Game five is scheduled for Sunday night in Sault Ste. Marie.
****
SERIES RESULTS
Game 1 – Soo 2, Kirkland Lake 1 (2OT) in Sault Ste. Marie
Game 2 – Kirkland Lake 5, Soo 3 in Sault Ste. Marie
Game 3 – Kirkland Lake 4, Soo 3 (OT) in Kirkland Lake
Game 4 – Apr. 18 in Kirkland Lake
Game 5 – Apr. 20 in Sault Ste. Marie
Game 6 – Apr. 22 in Kirkland Lake
Game 7 – Apr. 24 in Sault Ste. Marie