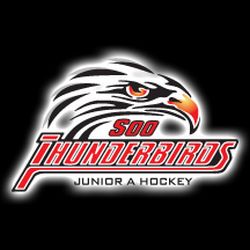 Eric Hilock was the hero on Friday night for the Soo Thunderbirds.
With a power play goal at 4:46 of overtime, Hilock helped extend a pair of streaks for the Soo Thunderbirds with a 2-1 overtime win over the Kirkland Lake Gold Miners.
With the win, the Thunderbirds extended their winning streak to 16 games thanks to Friday's victory. The Thunderbirds last loss came in the form of a 3-2 setback to the North Bay Trappers in North Bay on Nov. 10. That game was also the last of a three-game losing skid for the Thunderbirds at the time.
Their current streak also marks the second winning streak of 10 or more games this season for the Thunderbirds, who put together an 11-game winning streak earlier in the season.
Not only did Friday's win extend their 16-game streak, but the Thunderbirds also continued their unbeaten run on home ice this season. The Thunderbirds have won all 19 of their home games this season at the Essar Centre.
Thunderbirds goaltender Joel Horodziejczyk stopped 28 shots in Friday's win while Gavin Burbach had the other goal for the locals in the win.
Andrew Bertrand scored the lone goal for Kirkland Lake in the win.
The Thunderbirds are back in action Saturday afternoon as they face the Abitibi Eskimos in Espanola in a 4:15 p.m. start.