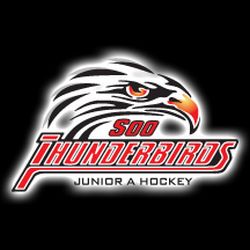 A three-game weekend road trip continued for the Soo Thunderbirds on Saturday night with a winning streak on the line.
The Thunderbirds extended their current winning streak to 14 games thanks to a 4-1 win over the Abitibi Eskimos on Saturday night in Iroquois Falls in Northern Ontario Junior Hockey League action.
Joel Horodziejczyk stopped 22 shots while Nicolas Tassone had a goal and an assist to pace the Thunderbirds to the win.
Grant Syrette, Darcy Haines and Tyler Jones also scored for the Thunderbirds in the win.
Sylvain Miron made 33 saves for the Eskimos in the loss. Shane Hiley had the lone goal for Abitibi in the game.
With the win, the Thunderbirds remain 10 points up on the Kirkland Lake Gold Miners in the NOJHL standings. Kirkland Lake was also in action on Saturday, picking up a 6-1 win over Sudbury.
The Thunderbirds have a record of 32-4-0-2 while Kirkland Lake is 27-5-0-2.
The Thunderbirds wrap up their three-game trip on Sunday in North Bay against the Trappers.
In other NOJHL action on Saturday, Elliot Lake beat Blind River 5-3 in Blind River.