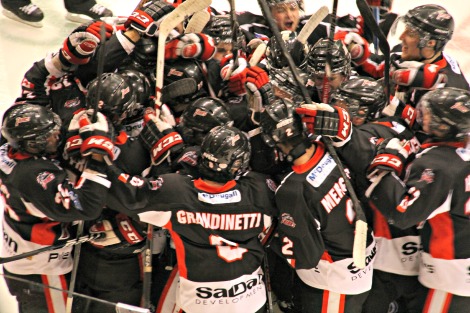 It wasn't easy but the Soo Thunderbirds have advanced in the Northern Ontario Junior Hockey League playoffs.
The eighth-seeded Blind River Beavers gave the Thunderbirds a run, but the Thunderbirds used a 4-3 overtime victory on Sunday night at the Essar Centre to win their first round NOJHL playoff series in five games.
Jeremy Solomon's shot from the left point found its way past Blind River goaltender Dylan Knox just 56 seconds into overtime to give the Thunderbirds the series-ending victory.
Joey Miller and Darcy Haines had a goal and an assist each for the Thunderbirds while David Radke also scored in the win. Goaltender Brian Kment stopped 20 shots for the Thunderbirds.
Scott Marshall, Trevor Simonick and Jacob Zarzycki scored for Blind River in the loss. Knox made 33 saves.
The Thunderbirds advance to take on the winner of the first-round series between the Elliot Lake Bobcats and Abitibi Eskimos. An Elliot Lake win on Sunday night gives the Bobcats a 3-2 series lead heading into game six in Elliot Lake on Monday night. If necessary, game seven in that series will be hosted by Abitibi on Wednesday night.