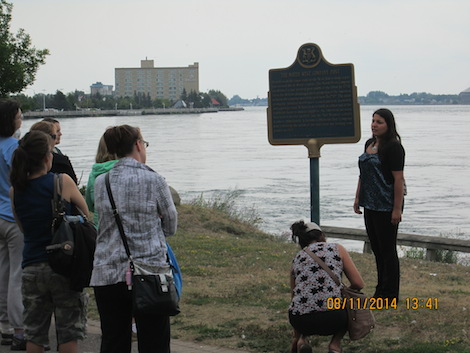 SooToday received two messages and photos from loyal readers regarding ThunderBird Rock tours happening here in the Sault.
**************************
My name is Jennifer Miller and I am a summer student at Phoenix Rising Women's Center.
Last week the women at the center and I took part in an experience that we would like to tell the Sault about.
On Monday, August 11 we participated in the ThunderBird Rock tour, which is a walking tour of our boardwalk with an emphasis on an aboriginal perspective.
We could not possibly have asked for a nicer afternoon.
During the tour the women really enjoyed owner Candace Day Neveau's relaxed approach by asking questions, discussing topics, and telling beautiful stories.
Our tour was focused on Aboriginal medicine, so we completed our tour by sitting at some tables outside the art gallery and making our very own medicine bags.
In a city where sometimes it becomes a norm to focus on differences between people or cultures, this was a really refreshing and educational experience for me.
I hope that citizens of our city take advantage of this tour while we have the ability to and just go with an open heart, and an open mind, and see what happens.
**************************
My name is Brenda Trudeau-Jacker, Phoenix Rising Women's Centre Co-Coordinator I also had the pleasure of partaking in Thunder Rock Tours.
I was pleased with Candace Day-Neveau.
She certainly let her light shine by teaching the Women' from Phoenix Rising Women's Centre the important history and teachings of Sault Ste. Marie and the surrounding area from an Aboriginal perspective.
Candace spoke to the women of Phoenix rising Women's Centre on different aboriginal teachings.
Bringing these components and certain aspects of the culture and how useful and helpful it is to incorporate the teachings into modern day society.
Candace brings something very special and very colorful to the economic fabric of Sault Ste. Marie.
Rarely do we see a young aboriginal women entrepreneur in our city.
I wanted to share this with our community and say how exciting it is to have women in our economic development of Sault Ste. Marie and a tour such as Thunder Rock.
Candace has displayed self-esteem, honour and at the same time displaying a certain humbleness with integrity.
Phoenix Rising Women's Centre would like to acknowledge Candace's determination, ambition and knowledge.
On behalf of Phoenix Rising Women's Centre, I would like to thank her for teaching the women from our centre.
Phoenix Rising is a multifaceted culturally sensitive support service for women with or without children, we offer safe, affordable programs that support the empowerment of women to gain control of their lives.
For the Facebook page of the tour with a calendar of upcoming dates, click here.
See the full Local2 interview here.
**************************