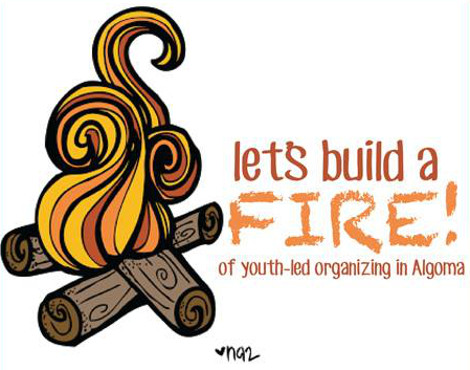 NEWS RELEASE
YOUTH SOCIAL INFRASTRUCTURE COLLABORATIVE
*************************
Three-day Gathering Catalyzes Young Community Builders in the Algoma Region
The 'Let's Build a Fire!' YSI Spring Gathering will take place May 29 – June 1, 2014 at Chiblow Lake Lodge, near Iron Bridge, Ontario and within Mississauga First Nation traditional territory.
For three days, the Youth Social Infrastructure (YSI) Collaborative, in collaboration with Thinking Rock Community Arts, is bringing together 40 young community builders and adult allies from the Algoma District to celebrate their successes and strengthen supports for youth organizing and engagement in Northern Ontario.
This event is being made possible through the support of a $218,000 grant from the Ontario Trillium Foundation (OTF).
"This grant has been vital in strengthening the youth organizing community in Algoma District. It has helped connect young community builders across the region and with their peers in other parts of the province so they can learn from and support one another to make positive contributions to their communities. We thank the OTF for their commitment to the success of young people across the province," said Robin Sutherland, Northern Coordinator, YSI Collaborative.
About Youth Social Infrastructure
Established in 2009, the Youth Social Infrastructure (YSI) Collaborative is a provincial volunteer network and community of practice that accelerates and amplifies the conditions for youth-led organizing and engagement.
It convenes youth organizers, funders, policy makers and youth-serving organizations to strengthen local and provincial networks and build sector capacity for young people to create change in their communities.
The Ontario Trillium Foundation, a leading grant-maker in Canada, strengthens the capacity of the voluntary sector through investments in community-based initiatives.
An agency of the Government of Ontario, OTF builds healthy and vibrant communities.
For additional information, please contact Robin Sutherland – Northern Coordinator, Youth Social Infrastructure Collaborative, at 705.206.4066 or email: robin@youthsi.org.
*************************