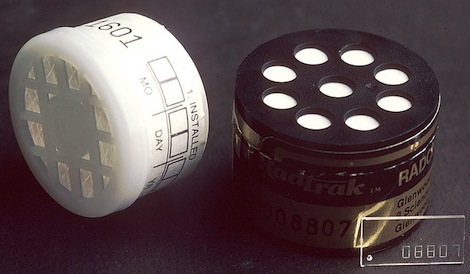 There may be a killer lurking in your home.

It's called radon - a colourless, odourless gas that gets into your home, a gas that has been identified as a major cause of lung cancer.

November is Lung Cancer Awareness Month, and both Health Canada and the Lung Association are urging homeowners to get their homes tested for radon levels.

The good news is that radon levels can be reduced, and Soo Radon's Don McEwen can help.

McEwen received his radon reduction training earlier this year from the Canadian and United States National Radon Proficiency Program (NRPP).

It's the only agency recognized by Health Canada to perform radon testing in Canadian homes.

Speaking to SooToday.com, McEwen said he began testing Sault residences for radon in September.

Out of over 50 homes tested, McEwen says 75 percent of those had high radon levels.

McEwen explained: "Radon comes from uranium in the soil which breaks down into various forms, and by the time it gets into your house, it's broken down into radon gas. That produces radiation and attaches to your lung tissue, causing lung cancer."

What does radon testing involve?

Soo Radon will come to your home with a testing device, which is the size of a Kleenex box.
[Editor's note: Shown, as an example, is a radon testing kit from the National Institute of Health.]

McEwen said: "We'll put the device in the lowest part of your house, like a downstairs bedroom or family room. We'll find a spot to place the unit, away from the wall and vents, preferably on an end table. The device takes in normal air flow, we come back in a minimum of two days, sometimes three days, take it back to our local lab and check the results."

"Radon reduction is fairly easy and can be done in one day," McEwen stated.

McEwen says the reduction procedure involves drilling a spot in the concrete slab in the bottom of the home, inserting a pipe into that hole, and a fan attached to that pipe will extract the radon and blow it out of the home.

After two days have elapsed, Soo Radon will carry out a follow-up test with a digital monitor to make sure the newly installed system is functioning properly.

McEwen adds, "We have different types of devices that are put in place on the radon reduction system unit so that the homeowner can view it, to make sure its working."

McEwen says cost for the testing procedure is usually $225, but in recognition of Lung Cancer Awareness Month, Soo Radon is offering tests at half price at $112.50.

What is the price tag for the radon reduction process, if your home's radon levels are high?

The cost varies, McEwen said.

"It depends on the levels and what the homeowner wants. There are various options and they range anywhere from $200 to $2,500. It would be $2,500 if we are in a house with a partial basement and partial crawl space, we would have to go and put down a vapour barrier blanket ... but 90 percent of the houses have a standard concrete basement, and that would cost $1,500."

McEwen acknowledges there are 'do-it-yourself' radon testing kits that you can send away for, costing as little as $50.

However, McEwen says there is always room for error with a do-it-yourself kit.

"We use an 'e-perm test.' It's the best in North America. You can get a kit for yourself, but they are affected by climatic changes. With our test we'll know for sure if our radon levels are high."

McEwen adds Soo Radon's procedure has other another benefit along with total mitigation of radon in your home, and that is a basement with no musty smell at all.

McEwen says Health Canada's high radon level is 200 Bq per metre cubed (for those of us who understand such mathematical terms), but notes at the same time Health Canada states "there is no safe level."

In other words, McEwen urges people to have their homes tested for radon and have it blown out of the house, for healthy lungs and peace of mind.

McEwen and Soo Radon can be reached via this website or by telephone at 705-256-1496.