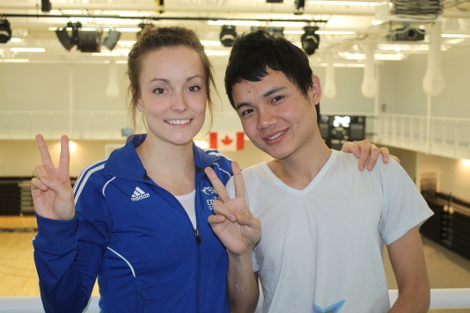 It's common for us who are born and raised in prosperous Western countries like Canada to take the everyday blessings we have for granted, or to complain about many things such as politics and occasional brown water, but for Sault College student Hsar Wah Kae, Canada is, in his own words, "like heaven to me."
23-year-old Hsar (pictured with Sault College's Caitlyn Nelson, a student currently enrolled in the postsecondary institution's Public Relations and Event Management program) hails from Burma, but had to flee from chaotic conditions caused by political unrest in his homeland at 14, to spend several years in a refugee camp in Thailand.
With the help of World University Service of Canada (WUSC), Sault College and Algoma University, and helpful Sault and area families, Hsar and fellow refugee Blu Hpoh Htoo Baw were able to leave Thailand, and the two now study at Sault College and Algoma University respectively.
Hsar and Blu arrived in Sault Ste. Marie in September 2013.
Hsar is in his first year of study in Sault College's two-year Peace and Conflict Studies program.
"I love it very much, learning new things," Hsar beamed as he spoke to SooToday.com Friday.
While there's nothing wrong with studying history, the Peace and Conflict Studies program does not merely examine the long, lamentable story of peace and conflict in our world, but rather, explores the themes of human rights and social justice, and helps students to develop excellent communication skills in order to become peacemakers throughout the world.
Not only does Hsar enjoy his studies (he has done very well in learning English in such a short time), but also told us he is fascinated with Canadian life and discovering how to use devices which we take for granted, such as computers and even elevators.
Hsar told us he has made friends on campus, and says his schoolmates in residence are helping him adapt to everyday Western life.
His host family (Jim and Sylvie Mackey) is a tremendous source of help and support, along with Caitlyn and her parents (David and Carmen Nelson).
"He has two host families," Nelson smiled.
"We had the chance to spend Christmas with each other (when the Sault College and Algoma University campuses shut down), so that Hsar and Blu wouldn't be alone…we took them to the house on St. Joseph Island, showed them around and gave them lots of pancakes and maple syrup."
"I would think of Hsar and Blu as brothers," Nelson said.
Nelson is the President of the Sault College WUSC committee, and welcomed Hsar at the Sault Ste. Marie Airport with the rest of the WUSC Committee last fall.
The Committee and Hsar's host family have helped him with everyday tasks, such as providing transportation to and from important appointments.
Hsar learned about the Student Refugee Program run by WUSC, a non-profit Canadian organization dedicated to giving disadvantaged people around the world a chance for postsecondary education, employment and a better quality of life, from a Canadian teacher he met in Thailand.
After meeting high academic standards required by WUSC, Hsar began his studies at Sault College in September 2013.
Nelson told us academic testing by WUSC is intense.
"Hundreds of students apply but very, very few actually get accepted, and students have to be sponsored."
1200 students have been sponsored by the WUSC Student Refugee Program since the late 1970s.
Many of these have returned to work in their own countries.
Sault College and Algoma University each have a WUSC Student Refugee every year.
Sault College first got involved with the WUSC Student Refugee Program in early 2012.
"We only had six months to prepare, it was very rushed, but we did an amazing job and now Hsar is our second student," Nelson said.
In Sault College's case, Nelson told us Hsar's tuition and residence costs have been waived for his first year of study, with Hsar eligible to apply for student loans for the 2014-2015 academic year.
"I really love Canada, it's very peaceful compared to my country," Hsar said.
"I love Sault Ste. Marie very much because it is near to the river and the lake and the forest, I don't like big cities."
Poignantly, Hsar told us he is grateful that, in contrast to that refugee camp he left behind, he is never hungry in Canada.
Hsar said his "Plan A" is to stay in Sault Ste. Marie after his studies are completed, his "Plan B" to return to Southeast Asia to help resolve conflict in that part of the world.
While Hsar's tuition and residence costs have been waived by Sault College for his first academic year, and though Hsar will be eligible to apply for student financial aid for his second year of academic study which begins in September 2014, Nelson said there is an entertaining fundraiser coming up next week to help Hsar with his interim financial needs.
"It's for a monthly allowance to help out with Hsar's expenses, especially over the summer, and also to help next year's WUSC student."
On Friday March 28, Sault College will be holding its CHEER for WUSC event to raise awareness of the WUSC program and, hopefully, raise funds to support it.
Admission is by donation, but people are encouraged to give, Nelson said.
"People were very generous last year…WUSC is our second biggest fundraiser."
Hsar and a group of his friends, Nelson told us, will have his own front row seat.
The CHEER for WUSC event will be held at Sault College's Health and Wellness Building.
Doors open at 6 p.m., with performances set to begin at 7 p.m.
The evening will feature dancers, vocalists, art and photography displays, and an impressive mixture of gymnastics and dance performed by the Sault College Competitive Cheerleading team.
Nelson added: "In the lobby, some girls will be painted, as live statues, as an added theatrical entertainment as people wait to get into their seats."
Refreshments will also be available.