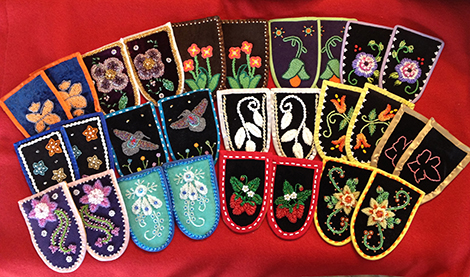 Community volunteers are preparing to receive upwards of 1,726 moccasin tops or "vamps" for the upcoming Walking With Our Sisters event being held at Algoma University on May 5.
Walking With Our Sisters is a national undertaking, which is both an art exhibit and a memorial.
Shingwauk Residential Schools Centre and Shingwauk Kinomaage Gamig have combined efforts to bring this community-driven memorial to the Sault.
Each pair of vamps is made to memorialize a murdered or missing indigenous woman, and purposefully not sewn into the moccasin to show their unfinished life.
Special vamps are being made specifically for this event, as it is the only location in their tour so far that has been held on a former residential school site.
The event has put out an open call for children's vamps to recognize the children of residential schools who never made it home.
Metis artist Christi Belcourt created the touring memorial/ exhibit.
First putting out a call on social media, Belcourt asked for 600 pairs of vamps and was met with overwhelming community support when over 1,600 had arrived before the due date.
Rebecca Beaulne-Steubing and Jonathan Dewer facilitated the community discussion, informing the local community about the event, and recruiting volunteers for the process that is expected to last a few weeks.
"This project is about how we support each other as we collectively and we individually memorialize these women," said Dewer
The entirety of the event from the arrival of the first pair of vamps and setup, to the tear down and sending of vamps to the next community, is a ceremony with local elders guiding the conduct of the event.
The memorial comes with guidelines for display, and one of the guidelines requires a community presence in the planning stages.
The third community discussion occurred at Sault College on Wednesday, and was met with great reception from the participants.
Community support also comes with the number of volunteers needed to host the event.
"The most important thing to note about this project is that it's not about any one artist, not about any one organizer, it's not about any institution or partner institutions coming together," said Dewer.
"This is about the community."
Volunteers are encouraged to come not as representatives from their communities or places of work, but as individuals with an open mind and open heart.
"Everyone who comes to the project, comes as an individual, they come to care, and they come to support," said Dewer.
"If this interests you, come to it. Learn about how to volunteer, learn about kind of volunteers we are looking for, and come."
The event is open to everybody and will be held at Shingwauk Auditorium in Algoma University between May 5 and May 18.
To sign up as a volunteer or get more information contact the Shingwauk Residential Schools at ShingwaukDG@algomau.ca or 705-949-2301 ext 4623.
You can also reach them through the Facebook page at Walking With Our Sisters - Sault Ste. Marie or their website.