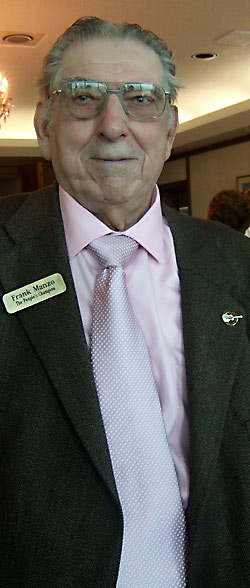 Long-time Sault Ste. Marie City Councillor Frank Manzo (pictured) has not filed nomination papers to run for re-election in Ward 6 in the October 27 municipal election.
The deadline to file nomination papers at the Sault Ste. Marie City Clerk's office came at 2 p.m. Friday.
Manzo himself was not available for comment, but sent out a news release (the full text of which is copied below) in which he thanked city council members and expressed his regret at not being able to run again due to health reasons.
"I will miss you all," wrote Manzo.
Manzo, 87, has been the longest-serving elected official in Sault Ste. Marie.
He was first elected as a Ward 6 city councillor in 1969 and served until 1994.
After an unsuccessful run for Mayor in 1997, he returned to council to represent Ward 6 after a by-election in 2001.
While not losing his desire to be involved in local politics, Manzo has, however, been suffering from vertigo and unable to attend council meetings since summer 2013.
Council has authorized extended absences from council meetings for Manzo since that time because of his health concerns, and it has been a source of speculation whether Manzo would seek re-election.
"He has certainly left his mark," Sault Mayor Debbie Amaroso told SooToday.com, referring to Manzo's involvement with council and several boards and committees throughout the years.
"One of the interesting things about Frank is that he is such an historian," Amaroso said.
"Because of the time he has been involved in municipal politics, you really rely on his ability to relay to you facts and situations that have happened in the past, so that has always added a great dimension to any area in which I have been involved with him."
"When I talk to people in Ward 6 they tell me to this day that if he was running they would vote for him because he was probably the quintessential ward councillor," Amaroso said.
"He would make sure that if you had an issue he was working to resolve that issue to your satisfaction."
"I know that he will be greatly missed by the residents of Ward 6 and certainly as we move forward with future councils his skill set with his knowledge and experience and his memory for historical information will be missed," Amaroso said.
A member of several committees and boards over the years, including the Sault Ste. Marie Region Conservation Authority (SSMRCA), Manzo has been considered by many of his constituents as "the people's champion," and also well-known for being a colourful and outspoken public official.
"He approached everything with passion and he always brought a perspective that made you think. When you're making decisions you want to be able to have that variety of perspectives to be able to make the best decisions possible," Amaroso said.
"Frank brought that perspective that always made sure you sat back and were sure of your facts and able to look at a situation from a variety of angles. That is a really, really important piece of any council."
"If you have a completely like-minded council you would not be looking at issues from the variety of perspectives you need to make a good solid decision and it's very important to have that passion within a council environment," Amaroso said.
Chief Administrative Officer Joe Fratesi, before serving as the city's mayor from 1985 to 1996, was Manzo's Ward 6 ward mate beginning in the late 1970s.
"I think Frank, in his very own way, has been an important contributor to the development of our city over the last 40 years," Fratesi said.
"He definitely has his own style and always very intent on making sure that people in his ward get basic services."
"He certainly has always been accessible to people, his phone has always been ringing for people who have service requests and Frank would make sure he would attend to those," Fratesi said.
"He had his own style and it prompted discussion (at council meetings)…it caused people to take a second look at how we do things and that was all useful and part of the process."
"All of us certainly wish nothing but the very best for Frank, he has served this community very well and all of us are appreciative of that and we wish him good health in his retirement," Fratesi said.
"I certainly wish him good health, we all wish him well," Amaroso said.
The full text of Frank Manzo's news release is included below:
*************************
2:01 p.m.
Hello my honourable and loyal constituents of Ward 6.
And the other five wards.
I make this announcement by this press release with the deepest regret.
I will not be running in the 2014 election due to the longevity of my illness.
If the good Lord could provide me a miracle that I could be blessed with restored health then I would run for Ward 6 Councillor again.
No such thing has happened.
I will surely miss all of you in Ward 6 and the entire City.
I just loved working for you on City Council accepting your phone calls with your requests and complaints.
Again, I will sure miss all of you.
If my health could be restored I would be running for Ward 6 to help you as well as the entire City.
I love all of you.
also would like to thank my partner Joe Krmpotich for all his help and the rest of City Council members.
Joe Krmpotich and I worked as a team .
Thanks Joe.
I would also like to thank Dr. Bryan Dumanski for attending many meetings at the Sault Ste. Marie Conservation Authority, when the issue of the wetland was taking place, at the special meeting of December 13, 2012.
This meeting was a real disaster.
Sorry that I cannot run for Council due to the length of my illness.
I will miss you all.
Frank Manzo
Councillor, Ward 6
*************************