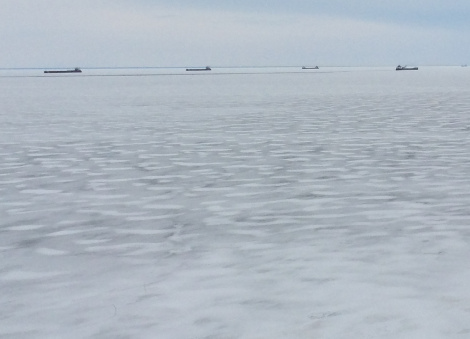 Thick ice on Lake Superior has created a logjam of freighters backed up along the shipping channel, including boats carrying iron ore bound for Essar Steel Algoma.

Freighter traffic is moving in convoys through the St. Mary's river and is backed up on Lake Superior to Michipicoten Island, 175 km north of Sault Ste. Marie, said Matthew Anderson, vessel management specialist with the US Coast Guard.

"There's more ice on Lake Superior now than we would expect this time of year," said Anderson.

The Lake Carriers Association reported that ore shipments on the Great Lakes were down 43 percent for the month of March over last year, which they attribute to thick ice formations.
They note an example of an iron ore shipment loaded in Escanaba, Mich. and destined for Cleveland, Ohio that was in transit for 12 days, rather than the expected 50 hours.

Anderson said ice-breaking operations on the St. Mary's River are about two weeks behind schedule, with Lake Superior lagging at least a month behind.

Brenda Stenta, manager of corporate communications for Essar Steel Algoma, said the Sault steelmaker is receiving freighter loads of coal from the lower lakes, but ice conditions on Lake Superior continue to "critically delay" shipments of iron ore.
Stenta said that they are affected by the slowdown, but production continues as the plant is receiving ore shipments by rail in the interim.
(PHOTO: Freighters line up on Lake Superior off Gros Cap on the weekend. SooToday.com)