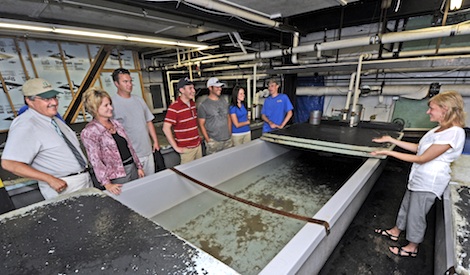 NEWS RELEASE
LAKE SUPERIOR STATE UNIVERSITY
*************************
Meet the Atlantics
Lake Superior State University Aquatic Research Laboratory Co-Director Ashley Moerke, right, introduces a raceway full of tiny Atlantic salmon fingerlings that will be released into the St. Marys River next June.
State Rep. Andrea LaFontaine (R-Columbus Twp.), second from right, joined fellow legislators for a behind-the-scenes tour of the lab on June 25 to gain an appreciation for managing a fisheries resource that draws millions of dollars to the upper Great Lakes region.
Rep. LaFontaine chairs the House Natural Resources Committee.
Looking on from the left is Cloverland Electric Cooperative Chairman Dan Daschle, whose company has been leasing space in its St. Marys hydroelectric plant to the ARL for just under three decades.
LSSU photo by John Shibley
*************************