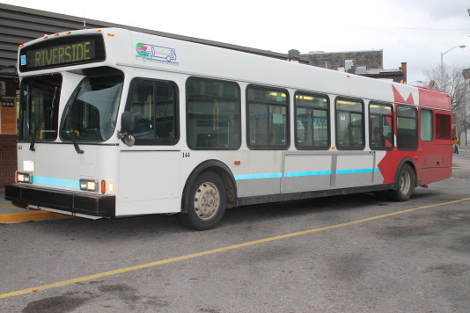 By now, many of you will have noticed these newly-arrived, eye-catching City Transit buses around town, sporting the Canadian maple leaf.
Sault Ste. Marie City Council, in its 2012 budget, approved spending $80,000 for the purchase of these used buses from Ottawa's transit division (known as OC Transpo).
The bus pictured here is one of five currently on local routes.
Sault Ste. Marie Transit and Parking Manager Don Scott told us the rest of the former OC Transpo buses purchased should be in the Sault by February.
The buses were first put into operation in Ottawa in 1998, but Scott says the refurbished buses are good for at least another five years.
Scott told us Sault Ste. Marie City Transit originally planned to replace the maple leaf with the City's own design, but has decided to keep them looking the way they are after positive feedback from the public.
It's always good to be patriotic, and the arrival of the buses in town has come at what may be an appropriate time.
Soon, our athletes will be in Sochi, Russia competing in the 2014 Winter Olympic Games, and the buses will serve as a reminder to root for our men and women competing for gold.