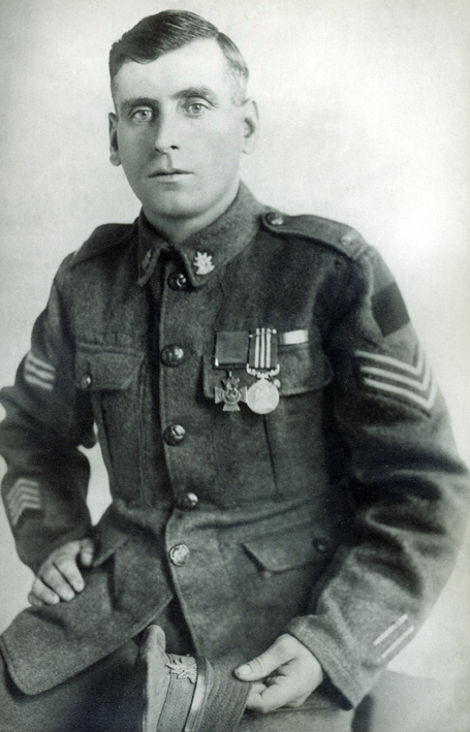 August 4, 2014 marks the 100th anniversary of Canada's entry into the First World War of 1914-1918.
Because Germany attacked Britain's ally, France, through its invasion of neutral Belgium, Britain joined the war August 4, 1914.
That automatically drew Canada into the war.
Canada in 1914 was a Dominion within the British Empire, with all foreign policy decisions, including war, still left in the hands of Britain.
Because of patriotism for Canada and Britain (the "mother country" for most Canadians in 1914), thousands of men voluntarily headed for the battlefields of Europe.
Many men from Sault Ste. Marie and area joined up, among them Sergeant William Merrifield (pictured).
Sergeant William Merrifield, who moved to Canada from his native England, was awarded the Victoria Cross for "exhibiting the highest qualities of valour and leadership."
On October 1, 1918, at Albancourt during the Battle of Cambrai in France, Merrifield singlehandedly attacked two enemy machine gun posts.
Killing the occupants of the first post, a wounded Merrifield went on to destroy the second post with a bomb.
Surgeons later removed three bullets and a piece of tin from his back, and also treated a bullet wound on his left arm.
King George V presented Merrifield with the Victoria Cross in January, 1919 at Sandringham Hall in Norfolk.
The Victoria Cross was established by Queen Victoria in 1856 to reward officers and enlisted men for performing an act of valour or devotion to their country in the presence of an enemy.
There were other notable war heroes from the Sault.
Lieutenant Colonel Sydney Lewis Penhorwood, born in Wales in 1872, came to the Sault as an engineer, and served in the Mountain Battery until it was disbanded.
In 1911 he reorganized the 51st Soo Rifles, and later organized the 37th Overseas Battalion.
Penhorwood went overseas in 1915 with the 138th Battalion and became assistant director of timber operations for the Canadian Forestry Battalion in Britain.
Because the Forestry Battalion was stationed at the estate surrounding Windsor Castle, Penhorwood became a close friend of King George V.
Penhorwood was awarded the Royal Victorian Order October 30, 1918 and returned to the Sault in 1919.
The Royal Victorian Order is given by the British monarch to people who have served the monarch or his/her family in a personal way.
David Kyle, born in Scotland in 1885, came to Sault Ste. Marie in 1910 and worked for Algoma Steel.
After serving in the First World War with the rank of Captain, Kyle returned to the Sault and became vice-president of Algoma Steel and president of the Great War Veterans Association.
His death at 35 from influenza, complicated by pneumonia, shocked the Sault.
During his funeral, the machinery at Algoma Steel did not run for 10 minutes, and the labourers did not work, in respect for Kyle.
Kyle was a recipient of the Military Cross, which can be awarded to commissioned officers with the rank of Captain or below for distinguished or meritorious service in battle.
Throughout the war, the 51st Regiment supplied several overseas detachments and battalions.
Here at home, the 51st Soo Rifles also guarded the Sault Ste. Marie Canal and the Oakland Avenue wireless station against possible enemy attack.
After the outbreak of hostilities, 127 volunteers left Sault Ste. Marie to go overseas August 20, 1914.
Lieutenant Colonel Penhorwood led the men along Queen Street to the CPR train station.
The train left for Valcartier, which was set up to be a military training camp, with a large crowd cheering them on.
In another major deployment from the Sault and area, 962 men, under the command of Lieutenant Colonel P.T. Rowland, left Halifax for England August 6, 1916.
The First World War ended November 11, 1918.
Over 3,000 men and women from the Sault and area served in the war.
395 died in action, many others were wounded.
Sault and area troops returned home in 1919.
Approximately 625,000 Canadians served.
About 60,000 were killed, another 173,000 wounded.
It has been estimated there were 37 million casualties in World War I (16 million deaths and 21 million wounded).
It is estimated there were 9.7 million military deaths, about 6.8 million civilian deaths.
It is estimated the losses among Canada and her allies were about 5.7 million soldiers, with another 4 million soldiers from the enemy powers falling in battle.
It was an unprecedented war which affected every continent (to a lesser or greater extent) and every ocean (primarily the Atlantic Ocean).
It was unprecedented in loss of life and suffering, and saw the introduction of flight for combat purposes, the invention of the army tank, large-scale submarine warfare, and chemical warfare.
A struggle for supremacy between two opposing groups of empires, it was a bloodbath fought mainly on the battlefields of Europe.
Tensions had been growing between the various empires for years prior to 1914 (Britain, France and Russia on one side, Germany and Austria-Hungary, to be joined later by the Ottoman Empire, on the other).
The assassination of a member of the Austrian royal family in the former Yugoslavia in late June 1914 began a series of events which, by August, had all of these empires at war.
Britain's entry into the war, as noted above, automatically drew Canada into the massive conflict.
Historians have held many discussions, written many books and produced many documentaries on World War I (and will continue to do so).
Two things are certain.
It is ironic that Canada, known and respected for being a peaceful and cooperative country, first gained respect on the world stage through its extraordinary, tough performance on the bloody battlefields of the First World War.
Secondly, the Sault and area can look back on its history and be proud of William Merrifield, Sydney Lewis Penhorwood, David Kyle and the others from our area who joined to fight in what seemed, in 1914, a great and patriotic cause.
With thanks to the Sault Ste. Marie Museum for photo of Sergeant William Merrifield, and for much of the information for this story