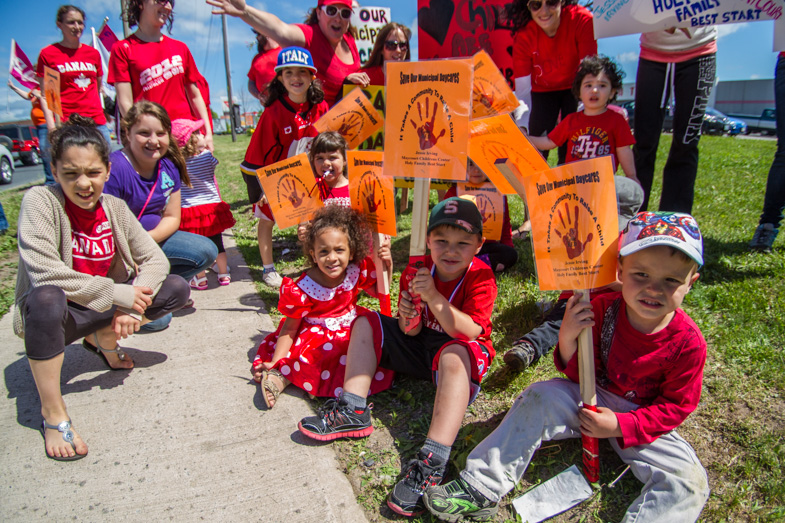 A group of facility representatives and clients rallied this weekend on Great Northern Road to protest the city's recent decision to slot municipally-run daycare programs for closure.

In question are Jesse Irving, Maycourt, and the Best Start Program.

City staff recommend the closures in the face of provincial funding cuts that translates to a 27.5-percent reduction in subsidies to city-run facilities.

"It's important to show the city that we need these services. Parents want it, and it's important to our community to invest in our children. They are our future and we need them," said Maria Pino, early childhood educator at Jesse Irving, and CUPE Local 67 vice-president, Daycare Division.

One hundred families are serviced by the facilities slated for closure, which currently operate at capacity.

Should these facilities be closed, families will be forced to find alternative programming in an already taxed daycare system, said Cathy Donnelly, CUPE Local 67 national servicing representative.

She said more than 1,000 children are already on waiting lists at other daycare facilities across the city, and the average wait time for a spot is 261 days.

"[The city is] doing this under the umbrella of being fiscally responsible without, from our perspective, looking at the impact on the community and the fabric that makes the community, which is looking after our children," said Donnelly.

Pino told us that both Jesse Irving and Maycourt are held to a standard of programming that many parents find attractive, and unlike many others in the city, have large green spaces which promote socialization and physical activity.

"If the city wants to draw young families to the Sault, they need to provide services such as this," she said.

"This is a community issue. How you take care of your youth and how you take care of your seniors is really how a lot of communities are judged," Donnelly explained. "The Sault is a beautiful place, so maintaining that service is important to us all."

Should city council accept the aforementioned recommendation, Jesse Irving and Maycourt will be closed at the end of 2014.