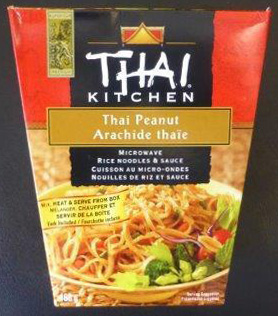 NEWS RELEASE
CANADIAN FOOD INSPECTION AGENCY
*************************
Recall details
Ottawa, April 4, 2014 - La Cie McCormick Canada is voluntarily recalling Thai Kitchen brand Thai Peanut Microwave Rice Noodles & Sauce as the product may contain a packaging defect or may have been processed in a manner that allows the presence of spoilage microorganisms.
Recalled product
Thai Kitchen, Thai Peanut Microwave Rice Noodles & Sauce
Size: 168g
Product code: BB/MA 2015SE04 VL02
UPC: 737628117512
What you should do
Check to see if you have the product in your home. If the product is in your home do not consume it.
Spoiled packages may not necessarily be dangerous and may or may not be identifiable. However, if spoiled food is inadvertently consumed, it is advisable to watch for symptoms that may include upset stomach, vomiting and diarrhea.
Background
This voluntary recall was triggered by the company.
The Canadian Food Inspection Agency (CFIA) is conducting a food safety investigation, which may lead to the recall of other products.
If other high-risk products are recalled the CFIA will notify the public through updated Food Recall Warnings.
The CFIA is verifying that industry is removing recalled product from the marketplace.
Illnesses
There has been one reported illnesses associated with the consumption of this product.
*************************