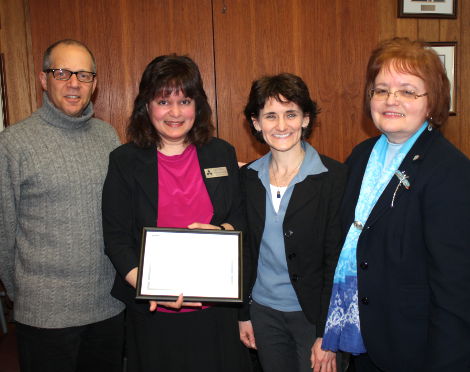 It was a day to honour excellence in early childhood education.
Ontario Coalition for Better Child Care Coordinator Andrea Calver presented Sault College with an award for its Early Childhood Education program at the beginning of Thursday's Sault College Board of Governors' meeting.
"Graduates from the ECE program here have learned from the best," Calver told SooToday.com.
The Coalition is funded by Ontario's labour movement and presents awards in the field of child care every year, and this year chose to honour seven community colleges with on-campus child care centres.
Sault College's ECE program operates a child care centre at the former Prince Charles School, adjacent to its North Street campus.
Calver, who travelled from Toronto to present certificates to the College and staff at the daycare centre, said "Sault College is on the cutting edge with the latest in child care in terms of curriculum and best practices. Early Childhood Education students benefit from that when they graduate. They've seen those best practices in their training."
Calver is pictured here, second from right, with OPSEU Local 613's Jeff Arbus, Sault College Board of Governors' Chair Dr. Gina Mohammed and the Huron Superior Catholic District School Board's Maria Esposito.
Prior to presenting the award at the Board of Governors' meeting, Calver presented certificates to the College's daycare staff and met with a classroom full of adorable little learners at the College's day care site.