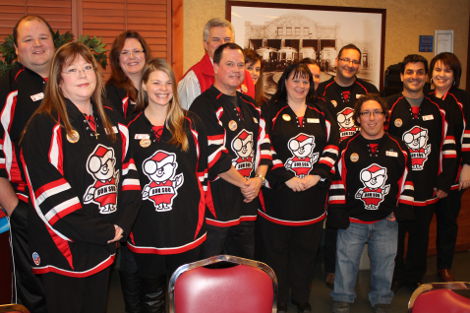 Bon Soo Winter Carnival officials are pumped!
As the February 1 opening ceremonies for the 10-day, 50th Bon Soo Winter Carnival approaches, Bon Soo organizers gathered for a pre-carnival celebration at Casino Sault Ste. Marie Wednesday.
Bon Soo launched in 1964 as a treatment for the "winter blahs" and the winter carnival team is determined to make this year's 50th annual carnival one to remember.
Bon Soo Manager Kerrie De Poli gave SooToday.com a preview of what is special and what is new about this year's carnival, to be held throughout Sault Ste. Marie February 1 through February 10.
"We are so excited about the opening ceremonies," De Poli exclaimed.
Opening ceremonies at the Roberta Bondar Pavilion will feature a wide array of local talent, including a performance by dancers from Richard Kim's Studio Dance Arts.
De Poli told us "Richard Kim has really brought us his vision and perfection and done a beautiful job for us."
"Technologically, there will be big screens on either side of the stage at the Pavilion, so that everyone will see the show. There won't be a bad seat in the house."
What would a winter carnival in Sault Ste. Marie be without participation by the Sault Ste. Marie Greyhounds?
De Poli said "we're so excited to be involved with the Sault Greyhounds. Traditionally, we have a skate with them at the Essar Centre, and that's great, but this year the team will be coming to our Tim Horton's Winter Playground at Bellevue Park for a meet and greet and bum slide."
Ongoing activities at the Playground will include events at a new space called "the Marquee."
Bon Soo officials describe the Marquee as "a space at our Winter Playground where groups and individuals can share their passion, talent, and culture with us."
Carnival organizers have been working with students from the Sault College Public Relations and Event Management (PEM) Program to put the Marquee together.
De Poli told us "the PEM students have created a wonderful space, very casual, very theatrical, with a diverse range of groups of performers, cultural groups, to come and share their talents with us."
Also new this year at the Tim Horton's Winter Playground is Alpaca Sundays, in which the Alpacas of Meadowview farms will visit each Sunday afternoon. The public will get the chance to feed or pet the animals, or even walk one on a leash.
De Poli continued "we're delighted to have AlgomaTrad to hold a concert on the evening of Friday February 8th and a dance on Saturday the 9th at the Canadian Bushplane Heritage Centre. They are musicians who are bringing Quebecois performing groups."
The Art Gallery of Algoma will also be a part of the festivities Saturday February 2.
De Poli told us "everyone is welcome to come down to the Gallery, where we're hoping to produce 50 snowmen. The AGA is very much in favour of people making their own interpretation of what a snowman is, not just the traditional three-tiered carrot nose snowman."
The finale to the 50th Bon Soo will be the RBC Polar Bear Swim.
De Poli said "the Polar Bear Swim is always exciting. I've done it myself. It's great!"
Christmas is not only the time to decorate during winter in Sault Ste. Marie.
There will be a City Wide Decorating Contest, with categories in Financial Institutions, Businesses, Classrooms, Outdoor Residential and, for the first time ever, Indoor Residential. Everyone participating is invited to decorate along with the theme "50 is Golden." That could include the 50th annual Bon Soo, the Fifties, and the glitter of gold. Bon Soo organizers urge participants to use their imagination.
As usual, "Mr. Bon Soo will be everywhere" organizers said.
Sault Ste. Marie MP Bryan Hayes was in attendance at Wednesday's gathering to announce a $20,700 grant for this year's Bon Soo, from the Ministry of Heritage and Culture.
A further $27,000 in provincial funding has also been provided by the Ontario government for carnival operations.
A full listing of this year's festivities will be available at the Bon Soo website.