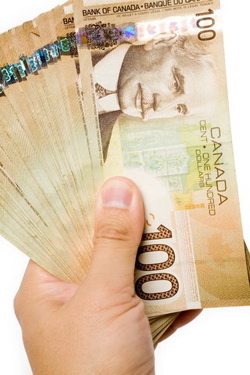 NEWS RELEASE
CREDIT COUNSELLING SERVICE OF SAULT STE. MARIE & DISTRICT
*************************
Budgeting for gifts throughout 2013
The thought of Christmas is well behind most of us and for many the bills associated with the holidays have come and gone and Valentine's Day is just quickly approaching.
Now is the best time to start thinking about the year ahead building strong budgets and savings plans.
"We find one of the biggest leaks in a family's budgets is spending for gifts over the year," says Matthew Keenan, credit and education counsellor with Credit Counselling Service Sault Ste. Marie and District.
"Gift planning is one area that is often not budgeted for and as a result many gifts we buy go onto credit cards" continues Keenan. It is easy for a family of four to spend in excess of $4,000 on gifts over the course of the year.
"Most people are surprised when they sit down and realize how many occasions and how many people they buy for each year. They are even more surprised when they add up the total cost of gifts" says Keenan.
When gifts are purchased on credit we are often left with a bill that we pay for months and the initial cost of the gift becomes largely inflated.
So how do we plan to set aside money to cover gifts and avoid having to borrow?
Credit Counselling Sault Ste. Marie suggests a five point plan to gift savings:
Identify the occasions
Take some time to sit and think about all the occasions you buy gifts for.
The holidays and birthdays are often the most obvious but also consider events such as anniversaries, Easter, Valentine's Day, Mother's and Father's Day, wedding/baby showers, and weddings.

By not including these other holidays in our gift planning we can find ourselves in a financial pinch and pulling out our credit cards.
Also, by planning for these events you will be less likely to feel the pressure at the mall to just buy something, which often costs more than you would like to spend initially.

Identify who you buy for
When looking at the occasions you buy gifts for it is important to consider who you are buying for.
It is important to identify who you are buying for because it makes it clear how many gifts you will need to budget for each occasion.
For example, if you buy gifts for Mother's day you need to consider how many mothers you actually buy for.
Do you buy for your mother, sister, mother-in-law, and close aunt?
In this case you need to take into consideration that you will be buying at least four gifts for that one occasion.

This step is especially important when it comes to events like birthdays and the holidays.
The number of people we are buying gifts for can quickly escalate beyond what we originally had in mind and with this comes increased expenses that will find their way onto your credit cards.

Identify how much you will spend per person per occasion
Once you know who you are going to buy gifts for this year think about how much you plan on spending per person.
It is important to consider the total cost of the gift not just the sticker price.
We need to include the cost of tax, wrapping, and in some cases shipping of gifts.
By thinking of the total cost we have a better understanding of how much we will need to save for gifts each year.

By calculating the total cost of gifts for each occasion we will develop a better sense of how much we actually spend on some gift giving holidays.
For example, if you buy four gifts for Mother's Day and each gift is $50(including tax) that would be $200 spent on Mother's Day.
However, if we take into consideration wrapping four gifts and shipping two across Canada that total cost for Mother's day could easily be $250.

It is important to note that for events such as birthdays and holidays that you host a party or dinner for you should include the estimated cost of the party into your gift budget as well.
By doing this you can avoid paying for party supplies on credit.

Identify total cost and required savings
The next step requires you to add up the total cost of each holiday to identify how much in gifts you plan on spending for the year.
Take this amount and divide by 12 to see how much you should be saving each month to cover the cost of your gifts.

For example if your total cost for gifts this year will be $3,500 you will need to save $291 each month to ensure that you can meet this target without dipping into credit.
If this total is too much you will have to revise your gift budgets for each event.
"Revising your budget is often the hardest part of gift planning because we don't want to have to cut back, but it is important to be realistic with our budgets to avoid going into debt" says Keenan.

Make it automatic
The final step in budgeting for gifts is to set up a savings account where you can put your monthly contribution so you don't end up spending it before the gift giving occasion.
A budget and savings plan is only good if you use it.
Your best bet is to set up an automatic transfer of your savings amount each month to go into your gift account.

If the money never reaches your daily account you won't have the opportunity to spend it.
Also, if you name your account "gifts" then you know that money is earmarked.
If you name the account gifts then every time you are tempted to take money out of it for reasons other than gifts you will know you are taking money from someone's gift indirectly and it may help to make you stop and rethink why you are "borrowing" this money.

With this account you can take out the money you have planned to spend for that gift giving event in cash and head to the mall.
Or, if you do use a card (credit or debit) you will have the cash on hand to either replace the money into your daily account or be able to pay off the expense on your credit card at the end of the month.

It is important to involve everyone in the family responsible for gifts (spouses, etc.) so that everyone is actively working within the budget.
If you only plan for one joint anniversary gift but you end up also giving each other another gift then you are cheating your budget.
According to Keenan, "It is very easy for gift purchases to escalate. But with proper planning and a little forethought you can avoid buying gifts on credit and still buy for all those on your list throughout the year."

The Credit Counselling Service of Sault Ste. Marie and District is a not-for profit accredited credit counselling agency whose mandate is to educate and counsel the community on issues surrounding money and credit management.
For more information about credit counselling services in Sault Ste. Marie, please contact Credit Counselling Services of Sault Ste. Marie & District, 298 Queen Street East, Suite 2, Sault Ste. Marie, ON, P6A 1Y7, visit our website, follow us on Twitter, or like us on Facebook.
*************************