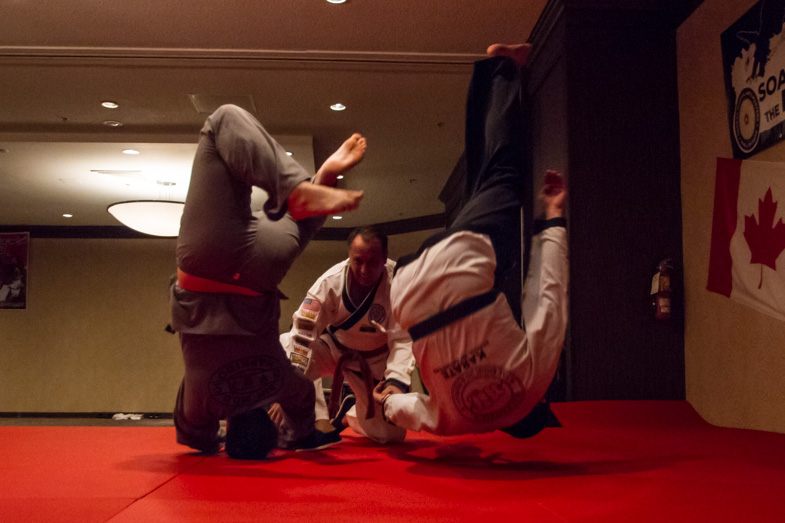 "There's only one way to be correct," says Saja Nym Rudy Timmerman
The young man he is speaking to shifts and looks away, obviously uncomfortable with such close attention from his Grandmaster in the Sault Ste. Marie Korean martial art school of Koong Joong Mu Sool.
Kuan Jang Nym Ronda Bourdage, Chief Master of the school looks on as Timmerman speaks to the class of six very young students who will soon be carrying the weight of school's honour on their small shoulders as they demonstrate their skills for Grand Masters from all over the world.
"Tough but fair," Bourdage says quietly as Timmerman moves on to speak with the instructor of the class. "I don't think Sault Ste. Marie realizes what they have here in Saja Nym."
The students were practicing for a demonstration they will give at the Delta Hotel on the waterfront after the founder of their school (Timmerman) and other well-respected martial artists are inducted into the International Korean Martial Arts Masters Hall of Fame in its inaugural year on Saturday.
The quality of their performance will reflect on their instructors, Chief Master Bourdage and ultimately on Saja Nym Timmerman.
Over 3,000 people were nominated for induction in the international Korean Martial Arts Masters Hall of Fame this year, including its founder Saja Nym Timmerman.
He didn't want to be inducted this year but the committee and his fellow inaugural inductees thought there would be only one way for the ceremony to be correct - that way would include Timmerman as an inductee.
There were four primary criteria the committee used to decide who would be among the first to be inducted.
"They must have a minimum of 30-years service in a Korean martial art; they must have at least national recognition; and, they must have a following of students not just in their local school but all over the world," Timmerman said.
The fourth criterion was that they could make it to Sault Ste. Marie to be inducted this year.
Timmerman fielded the idea for an International Korean Martial Arts Masters Hall of Fame to his colleagues in the Korean martial arts community via Facebook and they embraced it enthusiastically.
"I've been inducted in a number of them [Halls of Fame] and I found that every single one of them was more about selling seats at $150 a pop than it was about getting really important people who have done a lot for the martial arts in there," he said. "I thought, 'We've got to do something better than that'."
Saja Nym is also a Grandmaster
Many of Saturday evening's inductees are referred to as Grandmasters and that is what many call Timmerman but his students and the students of his students call him Saja Nym – which translates roughly to inheritor.
Timmerman began to practice martial arts at the age of 10 in Holland, the country of his birth.
When he and his family came to Canada in 1958 he took up the Korean martial arts of Kuk Sool Hap Ki Do and Tae Kwon Do under Grandmasters Pak In Shyuk and Pak Sung Bok.
Later the Pak brothers went their separate ways in philosophy and in leadership styles and Timmerman eventually followed Pak In Shyuk to Edmonton, Alberta to develop and create the curriculum of Kong Shin Bup™ which Pak founded and then passed on to Timmerman.
Timmerman also founded a Korean martial arts school in Sault Ste. Marie in 1973 and now grandchildren of some of the people he taught are becoming black belts.
This weekend many of those students will benefit from the experience of Saja Nym Timmerman and the other inductees as they participate workshops with the Grandmasters.
The young man who learned there is only one way to be right and his class will be among the groups giving demonstrations after the induction dinner and ceremony on Saturday evening.
(PHOTO: Grandmaster John Godwin from Delaware offered a short demonstration at the Delta Hotel Friday, August 8, 2014 prior to Saturday's Korean Martial Arts Hall of Fame induction ceremony. SooToday/Donna Hopper)
*************************
To view a video interview with Timmerman and Bourdage, please click
here
Earlier SooToday.com coverage of this story