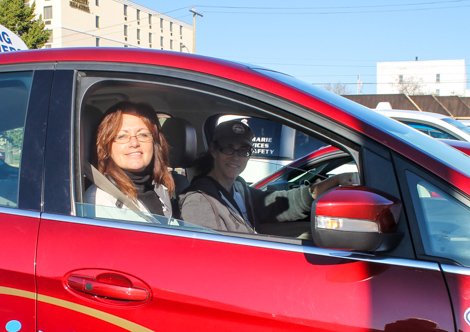 An event hosted at the Station Mall by Young Drivers Wednesday set out to demonstrate the dangers of distracted driving.

Judith Kovala, Dealer Operations and Young Drivers manager at Maitland Ford Lincoln, told SooToday that numerous activities contribute to distracted driving.

"It's a huge issue on our roads. It has surpassed impaired driving in terms of fatal collisions," she said.

"What we tried to highlight today is any kind of distraction, not just texting, results in distracted driving," Kovala explained. "Most of us think that we're better drivers than we actually are, and most of us think we can multi-task. That's one of the points that we're really trying to demonstrate. You can not do two things well at once."

There are three categories of distraction - cognitive, manual and visual.

While texting when driving involves all three, simple tasks such as adjusting vehicle controls, searching for an address, smoking, or drinking a coffee can all have potentially tragic results.

Wednesday's demonstration required the test driver to navigate a track while on the phone (hands-free) answering a variety of questions.

SooToday didn't fair so well when we were tested.

Kovala said Young Drivers stresses to its students the importance of "eyes on the road" at all times.

Preparation before heading on the road is also vital, including having the vehicle controls set, a route planned, and all occupants (including pets) are secure and comfortable.

To learn more about Young Drivers, please click here.
(PHOTO: SooToday prepared to head out onto the test track during the Young Drivers distracted driving demonstration at the Station Mall on Wednesday, November 4, 2015. Submitted by Stephanie Kovala)