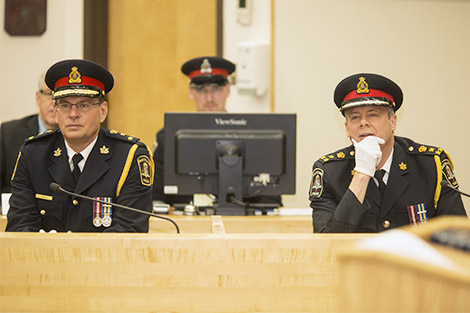 As of today, the city of Sault Ste. Marie has two active police chiefs, but that won't be for long.

Chief Bob Keetch was sworn-in Monday morning as the new chief of the Sault Ste. Marie Police Service in a ceremony at the Civic Centre.

Keetch replaces Chief Bob Davies, who is retiring after exactly 38 years as a Sault Ste. Marie police officer.

He was initially hired June 16, 1976 and has been chief of the police service since 1996.

Davies will spend the next week or so in an orientation role, to assist the incoming chief.

"Make no mistake, Chief Keetch is the chief as of now," said Davies.

Police officers from the Sault Ste. Marie Police Service, RCMP, various OPP detachments and the Greater Sudbury Police Service filled the council chambers at the Civic Centre in support of the new chief and to see Davies off.

"This was an opportunity for me to thank key individuals that played a significant role in who I am as a person and who I am as a police officer," said Keetch, whose mother, aunt, sister and wife were also in attendance.

Keetch also thanked retired Deputy Chief Jim Cunningham, formerly of the Greater Sudbury Police Service, who he identified as best friend and mentor in his policing career.

"Bob is a very capable person, both administration-wise and police-wise. He's very quick on his feet and a great investigator," said Cunningham, who made the trip to support Keetch.

The new chief became somewhat emotional while thanking those in attendance, and thinking of those who weren't.

"I am the type of individual who tends to wear my heart on my sleeve. I am very genuine and very open, it's a special day for me and my father isn't here to share it with me," said Keetch.

Keetch said he will spend the next week with Davies, drawing on his 17 years of experience as chief and hopes to maintain a dialogue with the former chief afterwards.

"I'm interested in his perspectives on the organization, its strengths and weaknesses. He will be doing a lot of the introductions, both internally within the organization and outside," said Keetch.

"I would certainly be open to him buying me lunch one day if he wanted to bounce something by me, I wouldn't turn him down," said Davies.
(PHOTO: L-R Incoming Chief Bob Keetch and Outgoing Chief Bob Davies listen to speakers during the swearing-in ceremony Monday morning at the Sault Ste. Marie Civic Centre. SooToday.com/Kenneth Armstrong)