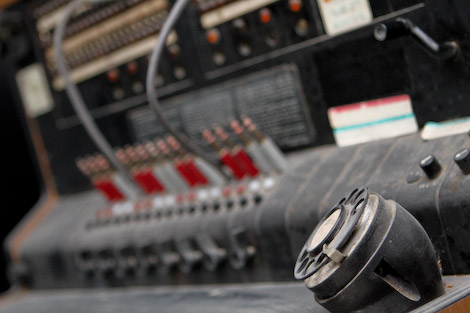 While this piece of ancient telephone technology may still be on-site, rest assured that local businessman Paul Finck has worked diligently over the last year to renovate and upgrade the former Norwest Motel into a conveniently located, clean, secure and affordable apartment complex.

The 42-unit building, now called Midtown Residential, began accepting tenant applications a few months ago, and features bachelor apartments that rent for $450 per month and one bedroom units for $550 per month.

Included in the monthly rent are all utilities (except telephone), digital TV and internet.

All units have been redone with fresh paint, new flooring, bathroom fixtures, doors and cupboards, and include a small fridge, stove, sink, TV and microwave oven.

The units are currently all furnished, but Finck tells SooToday.com that tenants are welcome to bring their own if they so desire.

Thankfully, the building has a massive basement with ample storage if needed.

The basement also houses the building's laundry facilities.

Currently in the final stages of construction, Finck was especially proud to show us the common area which will include LCD TVs, tables and chairs, vending machines and internet stations.

Hoping to have the renovations completed by Christmas Day, Finck said: "It'll be a great space for tenants if they want to get out of their room, visit with each other or invite guests over to have a coffee and hang out."

With only a few units left open, Finck anticipates the apartment complex to be full by the end of January.

"On average, seven to 10 people a day are coming in to submit an application for the units," he told us. "The feedback from them has been great and they're happy that it's so affordable, telling me that other places are $650 or more."

Although first and last months rent is required, Finck notes: "We've had great success with Disability. Everyone who lives here who's on Disability, they've paid their last month's rent for them."

Anyone interested in submitting an application is encouraged to contact building manager Paul Frolich at 705-575-9000 for more information.