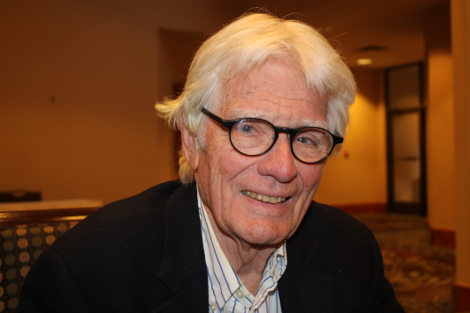 Dr. Ken Walker, MD, better known as Dr. W. Gifford-Jones, MD (the name he uses for his medical advice articles which he has been writing since 1975), is an extraordinary individual.
Extraordinary because at 90, after a long career as a surgeon, the Toronto-based Gifford-Jones (pictured) is still writing one medical advice article a week, 52 weeks a year, for 70 newspapers and online news sources (including SooToday.com) and travels widely, giving lectures to audiences who cherish his medical wisdom and wit.
More extraordinary is the fact he is not afraid to disagree with his colleagues in the powerful medical establishment when it comes to certain health matters.
"I believe if there's a natural remedy, why not try that first before you go to prescription drugs, which are always more dangerous than natural remedies," Gifford-Jones told SooToday.com.
"There are no dead bodies because of health food stores, but every year 100,000 North Americans die from prescription medication and another 700,000 are seen in the emergency wards for unintended consequences from drugs, so why not try a natural remedy?"
Gifford-Jones spoke to SooToday.com Tuesday evening, after a meet and greet at The Wellness Store Tuesday afternoon, an interview with Local2.ca's Jasmyn Rowley, and before delivering two free lectures scheduled for 1 p.m. and 7 p.m. Wednesday at Algoma's Water Tower Inn.
A graduate of the University of Toronto and Harvard Medical School, Gifford-Jones suffered a severe heart attack at the age of 74.
Yet, after bypass surgery, he turned down his own doctor's advice to take cholesterol-lowering drugs (CLDs) and, acting on research done by Linus Pauling (the famous Nobel Prize-winning chemist) and British optometrist Dr. Sydney Bush, decided to use vitamin C and lysine to prevent further heart trouble.
"I was really very hesitant to go on CLDs because I had seen a lot of complications in others to the liver, kidney, emotional problems and muscle pain."
"I decided I would take Pauling's advice rather than that of the pharmaceutical companies, which I thought were in it primarily for the money."
Gifford-Jones takes 6,000 milligrams of vitamin C, mixed with lysine, in a powder called Medi-C Plus.
"I guess it shows I proved my doctors wrong because at age 90 I'm still around."
Anyone deciding to use vitamin C and lysine to maintain a healthy heart must make it a lifetime commitment, Gifford-Jones said.
"When I refused to go on CLDs I knew from the look in my doctor's eyes he could never be my doctor again so I had to say 'well, we're parting ways.'"
"What he should have said was 'I'll still be your doctor and maybe even learn from you,' but doctors aren't that way," Gifford-Jones said.
"They think 'I'm the doctor, how do you know what the right thing is?'"
"It's a terrible dilemma…people just have to make up their own minds with the evidence at hand."
Gifford-Jones is always careful to emphasize medical advice from your doctor, or prescription medications, should not be totally discarded.
"I won't tell people to throw their medication away, but they should search out a naturopath and get another opinion."
Gifford-Jones said good, solid measures to ensure good health can be taken through use of natural remedies such as Medi-C Plus (a powder mixture of vitamin C with lysine), coenzyme Q10, vitamins B, E and K along with supplements such as calcium and magnesium.
"In all my lectures I always tell the audience 'I'm not here to tell you to throw your cholesterol-lowering drugs away'…but many people are so brainwashed that they're scared to throw them (their prescription drugs) away, so if that's the case, continue taking the drugs and discuss it with your doctor."
"The problem is, discussing things with your doctor isn't easy," Gifford-Jones said.
"It would be nice if some doctors started practicing a little alternative medicine such as acupuncture or referring patients to chiropractors for pain, no medical doctor knows everything…the more complicated medicine becomes, to bring in these other people makes a lot of sense."
Does Gifford-Jones foresee a day in which there will be a fundamental shift away from the way medicine is taught and practiced, a shift away from prescription drugs and a focus on healing over masking symptoms with pills that only cause other health problems?
"There'll have to be eventually, because the healthcare system is running out of money," adding there has to be an end to what he calls "pill-itis."
"You can't take any of these pills without it affecting the liver, and many people on renal dialysis machines now are there because they took too many painkillers or other medications…in the United States right now the single biggest cause of liver failure is Tylenol poisoning."
"There's got to be a whole new outlook on medicine," Gifford-Jones said.
Can cancer be treated or even cured with vitamins?
"Vitamin C is a great antioxidant and so is vitamin E but I don't know of any experiment that has shown we can cure cancer with vitamin C."
"I would take chemotherapy if I had Hodgkin's lymphoma, but for a brain tumour, liver or stomach cancer, no way," Gifford-Jones said.
"If I had lymphoma I would also seek out intravenous vitamin C in big doses, 100,000 or 200,000 milligrams a day for several weeks to see if it would be helpful."
"I don't believe there's a cure for cancer out there that they're holding back…that information would be impossible to keep secret," Gifford-Jones said.
Gifford-Jones lamented the fact hospitals in Canada do not give heroin to terminally-ill patients, something which he personally campaigned for after seeing the pain-killing effect heroin had on terminally-ill patients and burn victims (much more effective than morphine) in the United Kingdom.
Gifford-Jones fought hard, and in February 1984, the use of heroin as a pain-killer for terminally-ill patients in Canada became legal.
However, a doctor must appear before a committee and prove it is necessary, something which most doctors will not do, Gifford-Jones said.
"Finally, the company that was importing heroin here from England stopped doing so."
"It's still legal, but you cannot get it…it was a battle won but a war lost," Gifford-Jones said.
On a much lighter note, Gifford-Jones said laughter is good medicine.
"No one ever died from laughter, it's therapeutic."
Of his lectures, Gifford-Jones said "it's been interesting" to meet people who have read his articles, as well as some of his former patients.
Watch an in-studio chat with Dr. Gifford-Jones on our sister site, LOCAL2.ca.