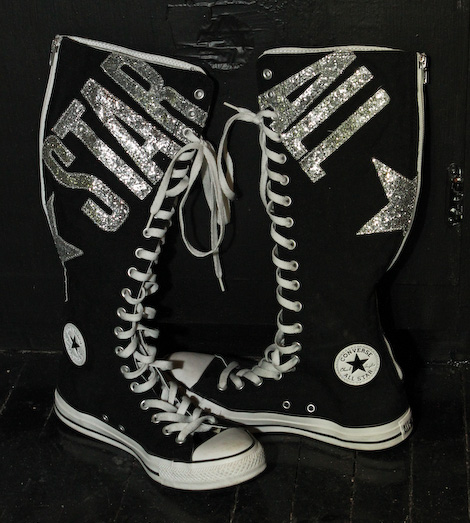 Sorry folks.

Those super rad knee-high Converse All Stars pictured above are spoken for.

SooToday.com nabbed those beauties this past weekend at Phat Closet, downtown Sault Ste. Marie's newest and hippest clothing resale store.

Located at 801 Queen Street East, Phat Closet sells gently used high-end clothing, shoes, and accessories at a fraction of the regular retail cost, including the brands Hollister, Abercrombie and Fitch, Coach, American Eagle, Lulu Lemon, Bench, Le Chateau, Roots, TNA, Guess, True Religion, Miss Me, Aeropostale, Charlotte Russe, Forever 21, Love Culture, VS Pink and more.

With a home base in Sarasota, Florida, Phat Closet is owned and operated by former Sault High and Lake Superior State University student Tara Kelgar.

Kelgar opened Phat Closet in the Michigan Sault about 18 months ago and decided to expand into Sault, Ontario due to the overwhelming response from Canadian bargain-seekers.

"I was inundated with Canadian shoppers on my side (of the border)," she told us.

Approximately 50 percent of the items sold to Phat Closet in Sault Michigan comes from Canadian customers, and Canadians account for 45 percent of the store's sales.

"(Canadian customers) were telling me they were having trouble at the border. In order to bring your items over the border to sell, you're actually supposed to have a broker, and brokers cost money," she explained. "We decided to make it easier, so we came to you."

As difficult as it was for Canadians to sell to Phat Closet, Kelgar said there were some unique challenges for an American opening a retail location on our side of the border.

"We jumped through a lot hoops," she laughed. "We had to have a Canadian director."

She's also not permitted to work in the Sault, Ontario location.

"It was definitely a process trying to figure out what we are and aren't allowed to do, but the community has been phenomenal," Kelgar told us. "They have wrapped their arms around us. It's a great community and Queen Street is wonderful. It's amazing to be part of downtown and everyone's been very welcoming."

Although the Sault, Ontario location has been open for the past three weeks buying items and building stock, this past Saturday was the store's grand opening as it finally began to sell.

Phat Closet is not a consignment store, but offers sellers 35 to 45 percent (in cash or store credit) of what the store would sell the item for depending on the brand and projected re-sellablity.

The Sault, Ontario location is open Monday to Friday from 11 a.m. to 7 p.m., Saturday from 10 a.m. to 5 p.m., and during the month of December, Sunday from noon until 4 p.m.

Phat Closet is also looking to hire two or three mature sales clerks.

Anyone interested in a position is invited to bring a resume to 801 Queen Street East or call 705-575-0199 for details.

For more information about Phat Closet, visit the store's website or find them on Facebook.