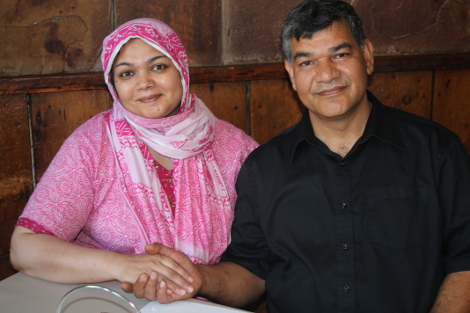 When Husky North on Great Northern Road closed with very little notice June 3, it was not only the facility's employees faced with sudden job loss that were disappointed, but also the many local customers who enjoyed the Indian food served at Husky North's restaurant.
Sure, there are other gas stations and convenience stores, and other employment will come for those who lost their jobs, but many locals went into culinary shock and have wondered 'will we be able to enjoy those Indian dishes again?'
Khurshid Khan, pictured here with his wife Rehana Sayeda, wants everyone to know the same popular Indian menu he offered as a chef at Husky North is available once again at a new restaurant, Tandoori Gardan, which he owns and operates at 663 Queen Street East.
Tandoori Gardan is open for business 11 a.m to 9 p.m. Monday through Saturday, 11 a.m. to 6 p.m. Sunday.
Khan hails from Pakistan and came to Canada in 1990.
He worked in the restaurant industry in Toronto and Buffalo before moving to Sault Ste. Marie in 2010, when the ownership at Husky North asked him to introduce Indian cuisine at that establishment.
He has designed menus and has taught others to prepare Indian cuisine at many restaurants.
Khan told SooToday.com the job offer at Husky North and the slower pace of Sault Ste. Marie attracted him to the community.
Husky North shut down its operations on Great Northern Road due to concerns over the possibility of leaky gasoline tanks contaminating soil and water.
The unexpected closure came as a surprise, Khan told us.
"I don't want to lose my customers. Feeding people makes me happy. I love it."
Khan told us local physicians Dr. V.K. Mathur and Dr. John Clarke were very instrumental in helping him find a location in which to open his own restaurant.
The landlords of the building at 663 Queen Street East also encouraged Khan to open for business as soon as possible.
"That's the kind of encouragement I've gotten from customers. I don't want to lose that."
Tandoori Gardan opened for business July 5.
Khan says he plans to be in Sault Ste. Marie for a long time.
"I still have family members in Toronto and I've told them to visit Sault Ste. Marie. I've told them to look at the heaven God has created from Sault Ste. Marie to Wawa."
"I've seen the Rocky Mountains and there is beauty there. But the beauty here is different. I see it and it makes me want to cry tears of joy. I don't want to leave here," he said.
"I wish I had come here 20 years ago, but here I am now, so it's never too late," he smiled.