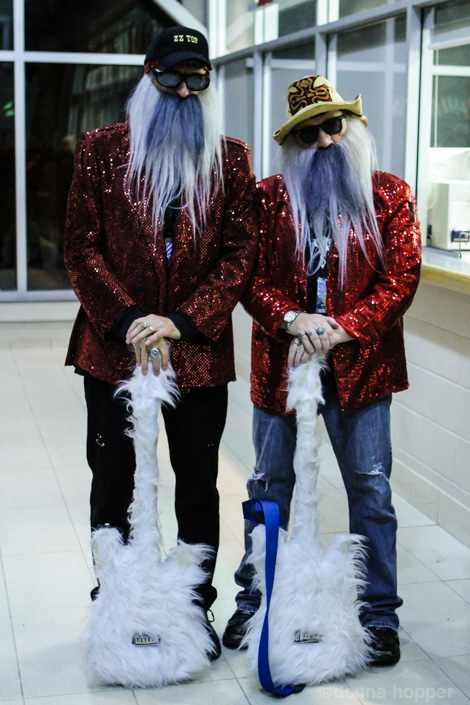 Joe and Vance are massive ZZ Top fans, obviously.

While Vance (pictured, left) told SooToday.com prior to last night's concert at the Essar Centre that every ZZ Top tune is a favourite of his, Joe said Legs from the band's 1983 release Eliminator was his favourite.

Vance has seen ZZ Top perform live four times, the first being 33 years ago, he said.

Thirty-three years ago was nine years after the release of ZZ Top's First Album and 11 years after the formation of the band - a band that has maintained the same lineup of tres hombres for almost 45 years.

"Same three guys. Same three chords," Billy Gibbons proudly announced early into the set.

The Texas trio of Billy Gibbons, Dusty Hill, and Frank Beard had all 3,200 attendees at last night's concert in their grip from the opening notes of Got Me Under Pressure straight through 75 minutes that spanned ZZ Top's career.

The evening's setlist included Waitin' For The Bus/Jesus Just Left Chicago, Gimme All Your Lovin', Pincushion, Certified Blues, My Head's In Mississippi, Sharp Dressed Man, Legs, La Grange, and Tush.

From ZZ Top's 2012 comeback release, La Futura, the boys selected Flyin' High, Chartreuse, and the best thing they've recorded in two decades, I Gotsta Get Paid.

They tipped their Ray Bans to some of their own influences to round out the night with The Jimi Hendrix Experience's Foxy Lady and The King's Jailhouse Rock.

"You gotta say it… Sault Ste. Marie. You can't look at it like it's spelled," Gibbons told Hill before breaking into a narrative about a local truck stop and a plate of poutine.

"Poutine. Doesn't sound very good. It was a mighty big plate. I had two," he laughed as the crowd roared. "That means we're gonna come back to Sault Ste. Marie."

It wan't long before the entire arena was on its feet thanks to the full-throttle, no-frills, all-substance performance that allowed their talent and timeless style take the spotlight.

At 64 years old, it was a pleasant surprise to hear both Gibbons and Hill belt and snarl like youngsters half their age, a sentiment obviously shared by the Sault audience as it called for not one, but two encores.

"I have just seen my favourite living guitar player. With every note, he's tasty," said local musician and business owner, Jay Case, in reference to Gibbons.

Indeed, Gibbons' blues guitar finesse has been credited with inspiring a number of careers, and Hendrix once referenced him as one of the best guitar players in the United States.
Last night's appearance included an opening strong set from Ottawa's Autumns Cannon.

ZZ Top continues the Canadian leg of this current tour with stops in Orilla, Ottawa, Quebec City, and Moncton.
For more information about ZZ Top, please click here
To learn more about Autumns Cannon, click here