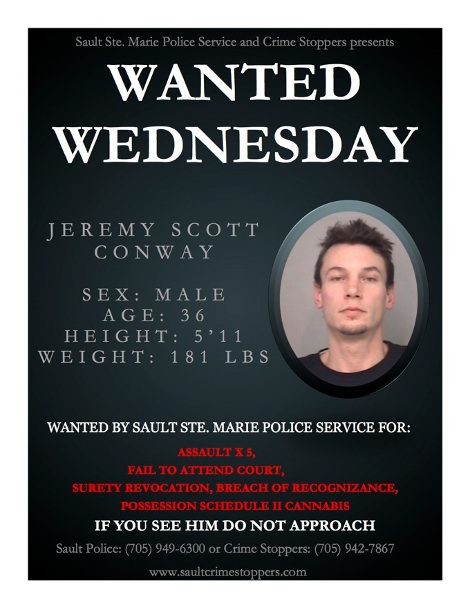 NEWS RELEASE
CRIME STOPPERS
*************************
Crime Stoppers and the Sault Ste. Marie Police Service released the 6th Wanted Wednesday profile today since the program launch on April 9, 2014.
April 9, 2014 - captured
April 16, 2014 - captured
April 23, 2014 - not captured
April 30, 2014 - not captured
May 7, 2014 - not captured
May 14, 2014 - Current
We need your help locating the current Wanted Wednesday individual.
You can view the current Wanted Wednesday profile on the Crime Stoppers website.

If you know where we can find the Wanted Wednesday individual please call the Sault Ste. Marie Police Service at (705) 949-6300 or if you wish to remain anonymous please call Crime Stoppers at (705) 942-7867 or 1-800-222-8477.

How does Crime Stoppers work?

The Tips

Crime Stoppers of Sault Ste. Marie & Algoma District encourages the public to call 1-800-222-8477 or 705-942-7867, submit a web-tip, or text the keyword SSM along with your tip to 274637.

All tipsters remain anonymous; we do not subscribe to caller I.D., record calls, or ask for any identifying information.
As a tipster you will be provided with a tip number, with each tip being assigned a new tip number.
A coordinator or trained call taker will ask a series of questions regarding the crime so that a report can be completed.
If the tipster is interested in a reward and/or wants to know the status of their information, they must call Crime Stoppers again and provide the coordinator or trained call taker with the tip #.

The Investigative Agency

Crime Stoppers creates a report based on the information provided by the tipster, and passes the information on to the police and/or the appropriate agency.
A Crime Stoppers tip may start a new investigation or it may support an ongoing investigation.
For the investigation to be considered successful the investigative agency must make an arrest, lay charges, recover stolen property, seize illegal drugs, and/or seize illegal weapons.

The Cash Reward

If your tip is successful you may be eligible for a cash reward of up to $2000.
The rewards are determined by the Board of Directors who meet monthly.
The Board of Directors calculate the reward individually for each case based on a number of factors including how many arrests or charges, the value of drugs, weapons and/or other property seized.
They also consider the seriousness of the crime and how much detail the tipster provided.
The tipster must call Crime Stoppers with their tipster number to receive instructions on how to pick up their reward.
Rewards are distributed through local businesses.
The local businesses that assist Crime Stoppers in distributing rewards have received training and will not ask for any identifying information.
Not all eligible tipsters choose to collect their reward.
*************************