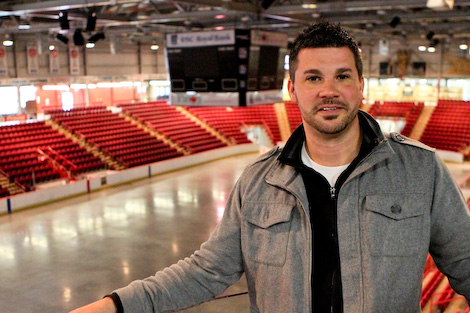 Public grumbling began almost immediately after construction of the then-Steelback Centre was completed in 2006.
"Really? No concerts booked yet for the whole summer?"
"Sudbury has Eric Church booked and just announced Billy Talent and Sum 41. Why can't we get any shows like that at the Essar Centre?"
"They need someone who knows how to promote the arena and our little city to help bring better entertainment here. If Sudbury and Kewadin can get this kind of entertainment, then why can't we?"
These comments are just a few of the more recent postings by concert-hungry Saultites on the Essar Centre's Facebook page.
SooToday.com sat with Trevor Zachary, marketing and events manager for the Essar Centre, to discuss these public complaints and learn the ins and outs of the arena's event booking protocol.
How it works, in a nutshell, is concert promoters are wholly responsible for performances hosted at the Essar Centre.
The Essar Centre, which is operated by the Corporation of the City of Sault Ste. Marie, does not pay for shows hosted at the arena, Zachary told us.
The event promoter covers all financial responsibilities associated with the production, including venue rental, venue conversion, labour, security, event day staff, and even Internet and phone usage.
"We're a public venue. We don't spend taxpayers' money to bring in bands," Zachary said. "This industry is high-risk, and to pay $250,000 to $1 million to bring in a band is risky. Based on the fact that we've been so fortunate to have the number of shows we have had here in the last seven and a half years, we've relied pretty heavily on the promoters."
He went on to explain that open venue dates are often offered to promoters like Live Nation once he learns of tours that may be routed through our area, but scheduling can be tricky.
"People need to understand that if a date is already booked by another group for another show or production, I have an obligation to keep that date held for those particular events," he told us. "We have a junior hockey team in the building, so we have to consider its schedule. It's a fine line when booking dates at the Essar Centre."
Zachary approached the promoters of Sudbury's recent Motley Crue show and the upcoming KISS appearance at the Sudbury Arena, but a variety of circumstances prevented these tours from routing through Sault Ste. Marie.
Sudbury is a larger community than Sault Ste. Marie, he said, adding that the Sudbury Arena sells extremely well when compared with other venues across Canada.
"Sudbury sells out shows. The Sault has had a difficult time selling out shows," he told us.
Elton John, KISS, Neil Young, Anne Murray, Johnny Reid's second show, and Bryan Adams' first show were all considered sold out concerts at the Essar Centre, and the Sault sells stage productions such as Mamma Mia!, Cirque du Soleil, CATS, and Beauty and the Beast very well.
However, shows that should have done well but fell short of ticket sale expectations - Billy Talent and Jerry Seinfeld being just two examples - likely factor heavily when promoters book tours through Northern Ontario.
There's great expense to route a tour across Canada, and a promoter needs to ensure as many sold out appearances as possible.
"Promoters talk and when shows don't sell out in the Sault, they all know about it," Zachary said. "Jerry Seinfeld should have sold out and it didn't, so now the promotor (who also promotes Live Nation concerts) is likely thinking it's too high a risk to bring particular shows to Sault Ste. Marie."
Artists, management and promoters are aware that fans will travel to catch their favourite band, and acts like Motley Crue and KISS need only book one Northern Ontario appearance - if torn between the Sault and Sudbury, they'll likely choose Sudbury.
He admitted that event ticket price may prevent people from attending concerts at the Essar Centre, but noted that although recommendations are made by venue staff regarding price, all ticket prices are set by artist management.
"Nine times out of 10, if shows are at venues that are similar in size to the Essar Centre, the ticket price will be the same across the board. It's easier with media and advertising," he explained. "But we're pretty aware what people will pay for a show in Sault Ste. Marie. If a promoter wants $100 a ticket for a show we're not sure about, we'll tell them it's too high. They'll either listen to us or they won't."
Zachary also said he needs to remain realistic when considering shows for the Essar Centre - booking an act that is currently selling out 50,000-seat venues just isn't possible.
"It's tough because we want to bring in these big artists, but the artist wants to make as much as they can on tour until the day they can't any more," he said. "Then they'll start playing the B-market, which is what the Essar Centre is considered because of its size. It's a difficult situation."
"I think the casinos across North America are making it difficult on venues like ours because they can afford to pay through the roof for these artists. And a lot of them are past that full-price stage in their careers," he added.
All of this aside, Zachary told us autumn and winter shows at the Essar Centre are in the works, including the recently announced appearance by ZZ Top on November 8 and Dora the Explorer on December 18.
But staff members at the Essar Centre aren't sitting on their laurels when no concerts are booked or hockey games scheduled.
They're always working on something, Zachary said, and are responsible for events across the city, including those at the Essar Centre, the John Rhodes Community Centre, the West End Community Centre and the McMeeken Arena.
Events like the Sault College Convocation, Passport To Unity, the Telus Cup, the Spring Expo, the annual Remembrance Day Ceremony, CARHA, and a number of tournaments and other celebrations rely heavily on the involvement and planning expertise of city staff.
And although an artist and its agents are financially responsible for all Essar Centre concert expenses, city staff assists the promoter with marketing and media plans, production and electrical requirements (sound, lighting, video), artist rider preparations, venue set-up, labour and rigging, and security.
So, regardless of public opinion, the scarcity of Essar Centre concerts is not due to laziness, inexperience or lack of trying.
It's all about attendance.
"When people see an announcement for a show at the Essar Centre and they're on the fence about attending, they should attend. That's what it comes down to," Zachary advised.