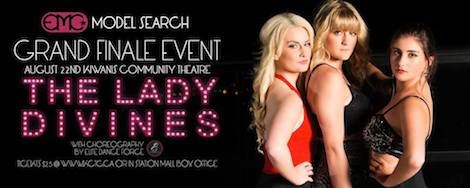 NEWS RELEASE
ACE INCORPORATED
**************************
Sault Ste. Marie's hottest live entertainment event is happening this Friday, August 22 at the Kiwanis Community Theatre.
ACE, in partnership with 99.5 YesFM, present the Grand Finale of EMC's Model Search 2014.
Watch as nine finalists compete live on-stage for a top prize of $1000, round-trip airfare to Toronto, and an exclusive interview with one of Canada's top modelling agencies.!
Contestants will compete in both runway and photography challenges.
Local clothing retailers including Pink Chandelier, The Totem Pole, Eclipse, Maurice's, Bootlegger, Ricki's, and Boathouse will have their latest fashions on display.
Photos will be arranged, shot, and edited in real-time, and will incorporate jewellery from Savoy's Jewellers and motorcycles from Great Lakes Honda.
Mane Street Salon and Spa will ensure that all of the models are looking their very best by providing exclusive hair and makeup services.
A representative from B&M Models will join the panel of local judges to crown the most talented and promising contestant.
Throughout the evening, The Lady Divines will perform a mind-blowing series of dance routines, choreographed by Elite Dance Force, Sault Ste. Marie's newest and most cutting edge dance studio.
The contestants have been competing for a spot in this show for the past month, they are ready to prove that they have what it takes to succeed in the fast-paced, high-intensity world of professional modelling.
Don't miss this opportunity to get a peek into the world of modelling, cheer on your hometown superstars, take in the latest fashion trends, support Sault Ste. Marie's emerging fashion and modelling industries, and be able to say "I saw her before she was famous."
Doors open at 6 p.m.
Tickets are $25 and are available at the door, online at www.kctc.ca, or at the Station Mall Box Office.
**************************