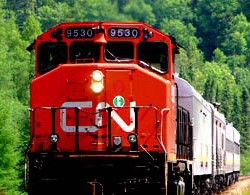 With only days left before Algoma Central Railway (ACR) passenger rail service between the Sault and Hearst shuts down March 31, city council unanimously passed a resolution Monday urging the federal government to show its support and provide $7 million over five years for a grassroots initiative to preserve and revitalize the service.
Council's support of the resolution was met with applause from members of the Coalition for Algoma Passenger Trains (CAPT) who were in attendance in the public gallery at council chambers.
Loss of the passenger service would devastate tourist businesses and communities along the line, with residents being unable to access their properties, homes and cottages in the region by rail.
Ward 2 Councillor Terry Sheehan said the situation was at "the eleventh hour."
Sault Mayor Christian Provenzano acknowledged the work done by CAPT in the effort to save the Sault to Hearst passenger rail line.
Provenzano said Sault MP Bryan Hayes, as a member of the Conservative government caucus, is working hard to ensure the needed $7 million support.
A letter written by Sault Ste. Marie Chief Administrative Officer (CAO) Joe Fratesi and addressed to federal Minister of Transport Lisa Raitt, dated March 17, 2015, emphasizes the need for the requested $7 million in government funding for the Sault to Hearst line.
A working group to save the service, known officially as the ACR Passenger Service Stakeholder Working Group, is chaired by Fratesi and consists of stakeholders including CAPT, the city of Sault Ste. Marie and numerous other groups, as well as home, cottage and land owners serviced by the Sault to Hearst line.
The working group was formed after the federal government announced it would terminate $2.2 million in annual funding for the Sault to Hearst passenger rail service in the spring of 2014.
Extensive lobbying led the federal government to extend that funding until March 31, 2015, while stakeholders went to work on finding a solution to keep the passenger rail service alive.
An economic impact study showed the ACR passenger rail service generates between $142 million and $268 million in annual economic benefits for the region, and a BDO study showed the service provides between $8.7 million and $12.83 million annually in tax revenue to all levels of government, along with 30 to 40 direct jobs, 55 to 170 indirect jobs and 290 to 430 "induced" jobs.
An agreement has been reached between CN and Michigan-based company Railmark, an independent third party rail operator, to operate the service.
It is hoped the new arrangement will provide an enhanced experience for those using the service, and that usership will increase, to the extent that no further federal government funding would be needed when the five year period is up.