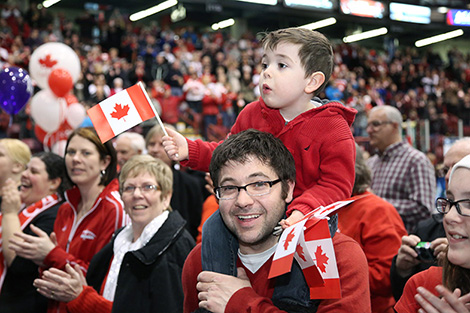 Brad Jacobs is happy to finally be able to be face-to-face with the fans who cheered the team on while they were in Sochi competing for Olympic gold, especially the kids.

"We know they look up to us and we are happy to be looked up to," said Jacobs.

The Essar Centre was host to a celebration for Olympians Team Brad Jacobs and Ted Nolan, as well as Paralympians Mac and B.J. Marcoux.

Mayor Debbie Amaroso said people have been stopping her on the street constantly since the end of the Olympics asking when the celebration would happen.

"I think it is truly inspirational what they have done, showing all of us what hard work can accomplish," said Amaroso. "They have set a shining example for every member of this community to chase their dreams".

The celebration included speeches, the presentation of plaques as well as an opportunity for fans to have autographs from the athletes.

A theme of brotherly love ran through the evening, from E.J. and Ryan Harnden and the Marcoux brothers to Ted Nolan's sisters, who were there to accept the honour on behalf of their brother.

E.J. Harnden said he and his brother drew inspiration from Justine and Chloe Dufour-Lapointe, who placed gold and silver in the moguls during the 2014 Winter Games in Sochi.

Harnden said that he can't imagine the emotions they must have gone through but was comforted knowing that if he was to win gold he would share it with his younger brother, which they did.

Those emotions of winning gold rushed back as Harnden watched the Marcoux brothers during the Paralympic Games.

Although an injury prevented B.J. Marcoux from guiding his brother Mac during the games, Harnden believes the journey those brothers took together to get there mattered most.

"I don't think it takes away from what was achieved, even though B.J. was absent in the actual actions," said Harnden.

Mac Marcoux agrees.

"It was a pretty big bummer to come into the games and realize B.J.'s back was going to be really unstable and probably not good enough to race," he said. "When we sat back and realized how far we had come together, I realized I couldn't have done it without him".

B.J.'s injury prevented him from competing in Sochi, but he said he is on the road to recovery and there is hope for a comeback.

Ted Nolan's sisters Barbara and Janice Nolan and Arlene Barry were proud of their brother, who coached the Latvian men's ice hockey team to a thrilling quarter-final game against Team Canada.

"Ted started here and has now become the head coach of the Buffalo Sabres, so to be honoured here is completing the circle," said Barbara.

Mayor Amaroso said that the city will look into the criteria for making a permanent change to the signs leading into town, to possibly honour the athletes at a future date.
(PHOTO: Four-year-old James Pistor watches the celebration from his father Tyler's shoulders April 3, 2014 at the Essar Centre in Sault Ste. Marie. SooToday.com/Kenneth Armstrong)