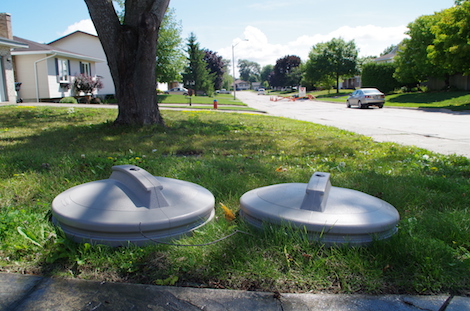 Someone out there appears to be amassing a significant collection of garbage cans.
The situation has perplexed residents of an east-end neighbourhood who woke up this morning to find the garbage cans they had put out the night before were missing.
"Garbage lids were on the ground and the contents were on the ground and the cans were gone," said one Elizabeth Street resident who asked not to be named. "I was like 'OK, if you're hard up for garbage cans, I wonder why you picked mine.'"
A handful of lids could still be seen on the ground in front of other Elizabeth Street homes as of this afternoon and a Danby Road resident said she too had her garbage cans stolen overnight.
She said neighbours told her of similar thefts on Parker Avenue, Breton Road and Boston Avenue.
Larry Girardi, the city's commission of public works and transportation, said waste collection workers noticed the missing cans and alerted police.
He said he's never seen anything like this before.
"Who would take a garbage can? Usually, they smell," he said.
Police are aware of at least one call about the thefts but no information was immediately available about the status of any investigation.
Rick Funk was one of the lucky ones.
He put his garbage out in the morning after coming home from a night shift, but noticed one of his neighbour's cans were missing.
"What do they need cans for with no lids?"
One area resident suggested the thefts had occurred previously in recent weeks as well.
(PHOTO: Just the lids remain after thieves made off with two garbage cans put out overnight on Danby Road. SooToday/Michael Purvis)