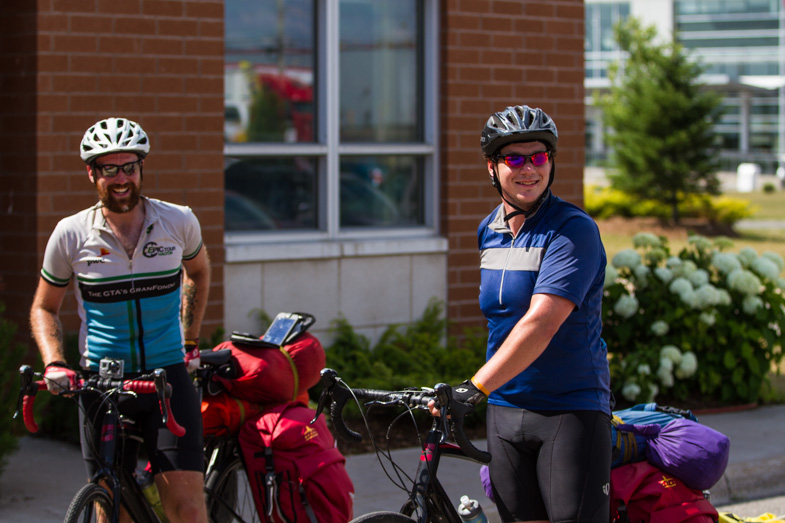 For youth justice worker Jon Haskins, cycling across the country has always been a dream.

So when his pal Glen Hempstock suggested the two make the journey as a fundraising campaign, he jumped at the chance.

The pair began their trek in Vancouver on June 1, calling the endeavour Ride for Play, to raise awareness of and funds for the global Right to Play organization.

Haskins and Hempstock arrived in Sault Ste. Marie yesterday afternoon where they enjoyed a warm reception at the Donald Doucet Youth Centre on Second Line East.

Founded in 2000, Right to Play "uses the transformative power of play to educate and empower children facing adversity."

"Being involved in youth justice, I've seen the power that can come out of providing youth with a positive mentor and a positive outlet," Haskins told SooToday.com. "If you give a kid a chance to realize their strengths and a goal to work towards, the sky is the limit. Many kids in Canada are born into situations where they don't have those supports. Right to Play can come in and provide that strength for them to realize their potential, that's why I'm behind this. All it takes is a positive person and a ball, and you've got limitless potential. And it doesn't take a lot of money to make a lot of good happen."

"I've always had organized sports to play and it's shaped my life in profound ways," Hempstock added. "It comes down to children are our future and we need to give them the tools they need to be successful and hopefully take the world to a better place."

As if cycling from coast to coast isn't arduous enough, Haskins and Hempstock have upped the ante by challenging themselves to cover as much of the country as possible and purposely selecting more difficult routes.

"We want to see as much as we can and meet as many people as we can," Haskins said. "When you're dressed in lycra standing in a grocery store in a small town, people are going to ask you questions. It's given us a really great chance to talk to every day Canadians about what we're doing, why we're doing it, and what Right to Play does."

They're arrival in the Sault marked the 5,000 km mark of their campaign which will eventually end in St. John's, Newfoundland.

Their goal is to raise $25,000 for Right to Play which would provide approximately 500 children with weekly sport and play programming for an entire year.

The duo are documenting their expedition via social media and on their website using photos, video and blogging, inviting people to experience the ride with them.

If what they do inspires others to undertake a similar campaign, that's an added bonus, they told us.

Follow the adventures of Haskins and Hempstock, and/or make a donation to the cause here.