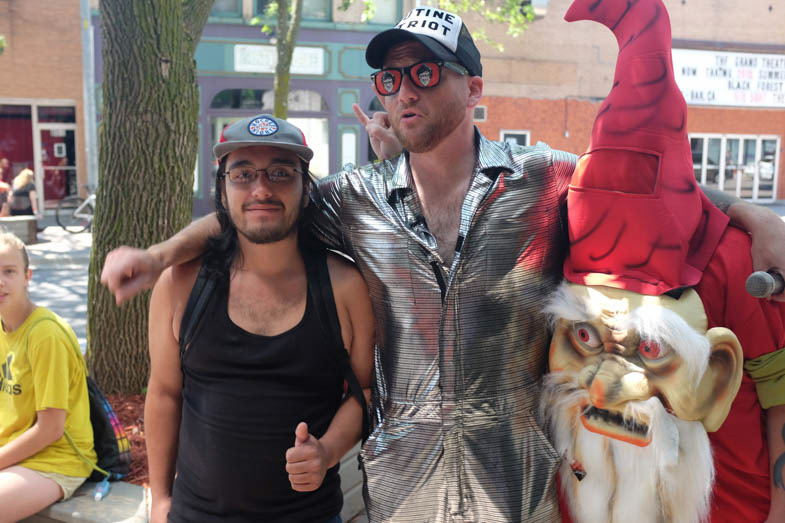 According to staff, hundreds of people gathered and lined up at Smoke's Poutinerie on Queen Street East to take part in an all-you-can eat Poutine giveaway and eating competition event on Saturday, July 25 in Sault Ste. Marie.

The event, officially called Smoke's World Famous Great Canadian Cross Country Plaid Gravy Train Fries Curds & Gravy Weird Wild and Wacky Poutine Eating Tour 2015, is a promotional event put on by Smoke's Poutinerie's national headquarters which is travelling to 18 cities in 25 days throughout the summer.

The highlight of the event was when Sault-local Jeremy Desjardins, 21, took the current first place spot in the tour's nationwide amateur poutine-eating contest with a time of 20 seconds.

There are five stops left on the tour, and if no one beats Desjardins' time he will win an all expense paid trip and a chance to compete at the World Poutine Eating Championship (WPEC) which takes place on October 3 in Toronto in front of an expected audience of 20,000 people.

The Toronto event is what organizer Adam Williamson describes as the "NHL Stanley Cup" of professional eating competitions.

According to local franchise owner Paul Fowler, 563 poutines were served during the 90-minute event giving Sault Ste. Marie the highest turnout so far on the tour, beating the previous top city Barrie.

There was no limit placed on how much poutine a person could order, and staff say 332 orders were placed with the largest single-order being placed for 14 poutines.

The event was MC'd by former professional eating champion Tim Brown and featured entertainment by former America's Got Talent contestant Mark the Knife who performed as "the world's most dangerous poutine maker" demonstrating a variety of stunts, including balancing a full sized lawn mower on his face while audience members threw raw vegetables at the spinning blades.

Before the event, Brown, who was once ranked 6th place in the world for Major League Eating, gave three tips for successful competitive eating:

• "No reversals of fortune" (immediate disqualification if the food comes back up after eating – so don't do it)
• "Pre-chew with your hands" (competitors are encouraged to mash the poutine with their hands before putting it in their mouth to make it easier to shove in)
• "Chipmunking" (since competitors' times end as soon the food has fully entered the mouth it is recommend to just get it into the cheeks as fast as possible, although it is still required that all the food be swallowed)

Desjardins said listening to Brown's tips helped him achieve his winning-time.

Desjardins dedicated his success to his grandmother and if he ends up keeping the winning time he will bring her with him to WPEC.

"She's been sitting around a lot and I just wanted to do something nice for her. It's the summer, she hasn't been anywhere yet and she needs something nice," said Desjardins.

Before the event, the record time was 24.56 seconds, held by Gus Cruz of the Niagara/St. Catharines area.

Two Sault locals actually beat that previous winning time as Mark Leblanc, 46, first scored a time of 22 seconds, causing him to exclaim: "I'm going to Toronto!"

Leblanc was upset shortly after when Desjardins scored his time on what was actually his second attempt of the day.

Leblanc then tried to take back his lead with another attempt but was unsuccessful.

Williamson describes Desjardins' chances of keeping first place and winning the national competition as "very good".

The event ran from noon to 1:30 p.m. and included hot pepper-eating, gravy drinking, and variety of other challenges offered to the crowd who could win Smokes' hats, sunglasses, and gift cards.
(PHOTO: Poutine eating competition winner Jeremy Desjardins (left), MC and former professional eater Tim Brown (middle), along with "the hateable gravy gnome" (right) pose after the event celebrating Desjardins winning time of 20 seconds at Smoke's World Famous Great Canadian Cross Country Plaid Gravy Train Fries Curds & Gravy Weird Wild and Wacky Poutine Eating Tour 2015 on July 25th, 2015 in Sault Ste. Marie.Jeff Klassen for SooToday)