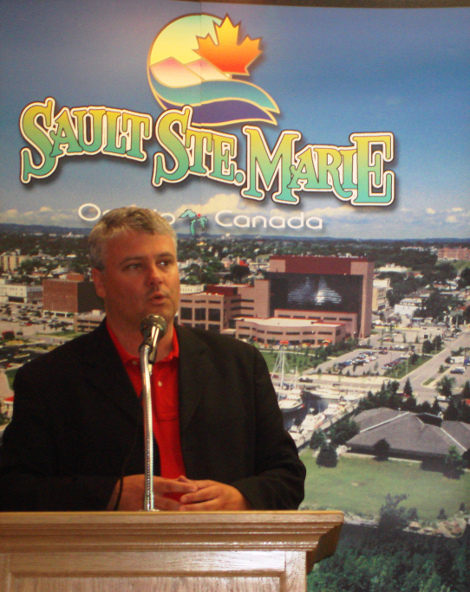 Veteran city councillor Terry Sheehan (pictured) filed his nomination papers for re-election in Ward 2 Friday.
Sheehan, first elected to council in 2003 and re-elected in 2006 and 2010, told SooToday.com he usually files later than other candidates.
"I don't usually file until I'm ready to start campaigning," Sheehan said.
As of Friday, there are five mayoral candidates, including incumbent Sault Ste. Marie Mayor Debbie Amaroso, running for the city's top elected position, as well as 19 city councillor candidates across the city's six wards, leading up to October's election.
Sheehan may be the last incumbent to file his papers.
It is not known if longtime Ward 6 Councillor Frank Manzo will be running for re-election.
Manzo was not available for comment this week.
Two city councillors have decided not to run for re-election, both of them in Ward 3.
"The past couple of elections I've thought it may be my last term, but once I got into it I thought there was so much to be done and the next thing I knew it was election time again, but I do know that I would like to spend more time with family and friends and now is probably the time to do that after 24 years in municipal politics," Councillor Pat Mick told SooToday.com.
Prior to first being elected to council in 2000, Mick served as an Algoma District School Board (ADSB) trustee from 1990 to 2000, and was the first chair of the new, amalgamated board.
"I think we (council) wanted to create that fertile ground for business and jobs, and while council doesn't create jobs, we can make the atmosphere more business-friendly, and through a combination of council's efforts and the economy and other things, the population did start coming back."
"When the economy starts to do well, culture and recreation does well," Mick said.
"Looking back on what we've accomplished in that way in 14 years, there's been a lot, the latest one being the Heritage Disovery Centre, along with the Northern Community Centre, the Essar Centre, the John Rowswell Hub Trail, the skateboard park, and we've started to make plans for a bicycle pump track and splash pads, and I hope to see those established in the near future."
"As far as things for our community to do to make it a better community to live in, I think we've accomplished a lot," Mick said.
Mick said that while there is an element in the Sault that "likes to dwell on the negative," there are many others, especially volunteers, who want to enrich the community.
Mick has served on several boards and committees, such as the District Social Services Administration Board, the Police Service Board, the Sault PUC board and the multimodal committee.
"We need to bring in more in terms of transportation, and we still need to pursue a deep water harbour, and hopefully we're getting closer to that…that would be a boon to Sault Ste. Marie."
"We need more than just highways, we need the railroads, the waterways and the airways, and Sault Ste. Marie needs to be at that centre of so many things, especially for commercial reasons," Mick said.
Mick encouraged new councillors who will be elected in October to work closely with city staff.
"We need their guidance to establish the framework for policies and bylaws, and once the groundwork is in place decisions should be easy."
"Planning issues should not have to be debated for hours," Mick said.
Brian Watkins, Mick's ward mate, also won't seek re-election.
Having served only one term, Watkins said "I'm a small business owner (Algoma Office Equipment ) and I need to focus solely on my business, my staff and my business partner."
"I will be seeking some kind of elected office again at some point in time," Watkins said.
As for being a member of council for the last four years, Watkins said "I have no complaints, no bitterness…it;'s solely a decision based on business and family reasons."
Watkins said the current council is a cohesive unit.
"I've appreciated the team we built and the friendships I've made on council…there's some great talent, some great people on council."
Meanwhile, there are five declared candidates running for trustee seats with the Algoma District School Board, seven with the Huron-Superior Catholic District School Board, and one for each French language school board.