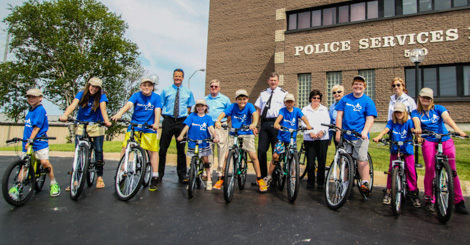 Forest Berry, Xavier Werth, Alayna Hewitt-Bumbacco, Ban Nadon, Jada Matthews, DJ Houle Gage, Dalton Moore, Nicholas Dewar, Paivi Bell and Kordell Bell were guests of honour this morning at the Sault Ste. Marie Police Services Building.

These ten hard-working local youth, who range in age from 9 to 13 years old, were rewarded for their civic pride with brand new mountain bikes complete with accessories courtesy of Tim Hortons and the Earn-A-Bike Program.
In addition, each student was presented with a gift pack of goodies from Sarah Bug's Sweet Treats.

During the month of June and into July, the students gave back to the community by cleaning up trash in area parks and sections of the Hub Trail, and by washing police cruisers as well as the BATT armored tactical vehicle.

During their 30 hours of community service, the children were accompanied by officers from the Community Relations and Crime Prevention Bureau.

"I am delighted with the success of the Earn-a-Bike Program," stated Police Chief Keetch in a media release today. "It helps to foster strong police/youth relationships while working together to improve the environment. The bicycles are a great reward for a job well done!"

"This is a great way for children in our community to learn about giving back to the community," Staff Sergeant Jane Martynuck told SooToday.com at the event. "Doing things like cleaning up garbage made them think about future behaviour and gives them a chance to see us out of uniform in a mentoring role."

Eleven-year-old Alayna Hewitt-Bumbacco told us that there was a lot of trash to clean up and she'd like to continue volunteering in order to help keep the city clean.

"[This program] is a testament to our relationship as Tim Hortons local owners as well as the Police Department," said Craig Holub, Tim Hortons franchisee. "It's win-win in terms of everyone collectively celebrating good things that are happening in our community."

For the past 14 years, Tim Hortons has teamed up with the Sault Ste. Marie Police Service and other local agencies for the Earn-A-Bike Program as selected students are rewarded for helping make the community a cleaner, brighter place to live and play.