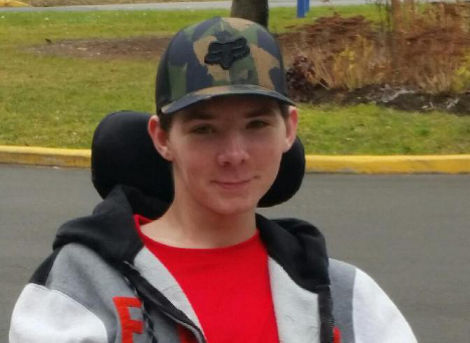 Sault Ste. Marie's Justin Williams, 16, is recovering well after being accidentally struck in the neck by a .22 calibre bullet at the Algoma Rod and Gun Club October 10.
In fact, Justin will be coming home for Christmas December 22 before returning to Toronto for more physiotherapy in January.
Justin's parents, Gerry and Carrie, have been with Justin all along as he has gone through extensive physical rehabilitation.
Justin was first hospitalized at Children's Hospital of Eastern Ontario (CHEO) in Ottawa, and is now receiving treatment at the Lyndhurst Centre, a Toronto physical rehabilitation centre affiliated with the University Health Network.
At the start of his ordeal, Justin was paralyzed from his shoulders down and needed help to breathe.
Now, the long-term prognosis is good.
Very good.
"They (the doctors and physiotherapists) are saying he will walk again," said Justin's father Gerry, speaking to SooToday from Toronto Monday.
Gerry too was severely injured in the past, struck by a vehicle in 1995 and wheelchair-bound for three years while making his recovery.
"So, I've got Justin in the mindset that he does want to walk again," Gerry said.
Justin can already stand, with some assistance.
"He's already riding a stationary bike, pedalling it on his own without any assistance, and with some help he can feed himself," Gerry said.
"He's doing good, he's breathing on his own, he's got about 90 percent use of his left leg, about 80 percent use of his left arm, they are working on his right leg and he's got about 50 percent use of it and getting stronger, he has movement in his right fingers and wrist and shoulder."
Gerry said "he is leaps and bounds ahead of what the doctors expected."
"He's doing really, really well (mentally and emotionally)…he's getting his sense of humour back, he's eating well, he's got a TV and DVD player, he's up in his chair four or five hours a day."
He speaks to his large extended family here in the Sault by phone, and has also been visited in hospital in Toronto by family and friends who have made the the trip down south.
In a wheelchair, Justin went to a shopping mall with his parents over the weekend.
Justin and his mother Carrie will be flying home to the Sault from Toronto December 22 on Porter Airlines with assistance from Hope Air, and will return to Toronto for some more rehabilitation therapy January 2.
Gerry will be travelling home for Christmas by car.
Justin's scheduled discharge date from hospital is February 14, after which he will continue his recovery at home.
Justin also wants to shoot again someday at the Algoma Rod and Gun Club, Gerry added (no charges were laid by police, as the incident was accidental).
Much of the special equipment needed for Justin's return home has been made available through donation.
Friends have constructed a ramp at Justin's home to enable him to enter and exit the house easily.
Another family friend has donated a fully-equipped handicapped van with a wheelchair lift (which that friend formerly used for a family member of his own).
That van will be picking Justin up at the Sault Ste. Marie airport December 22.
Members of the Sault's Odd Fellows Temple have donated a hospital bed for Justin to use in his home.
Throughout it all, Gerry and Carrie have experienced not only emotional hardship but enormous financial challenges.
The couple has been paying for accommodation, food, parking and many other expenses while Justin has been staying at hospitals in Ottawa and Toronto, while also paying for all the expenses involved with maintaining a home here in the Sault.
They are now staying in a furnished apartment provided by Spinal Cord Injury Ontario at a reduced nightly rate.
When they return to Toronto after Christmas for Justin's second stay in rehabilitation, they'll be staying at a Spinal Cord Injury Ontario furnished apartment for free before returning to the Sault in February.
Meanwhile, a pasta dinner and dance fundraiser will be held in the Sault in January to help out with the family's expenses.
"We thought 'how do we help this family,' knowing it's going to be a long journey for Justin, and because his Dad can't work right now (while on compassionate leave from his job as Justin recovers) and his parents have had big costs while Justin's been in hospital," said Shirley Pulkkinen, one of the fundraiser organizers.
"We thought we would rally the community and participate in a pasta dinner fundraiser after Christmas, in late January, because everybody else has their own families as priority before Christmas," Pulkkinen said.
"This is a hope story, I'm excited to hear about the improvements that have happened for Justin."
The Just for Justin Pasta & Meatballs Dinner & Dance fundraiser will be held Saturday, January 30 at Northern Grand Gardens, 1324 Great Northern Road, 5:30 p.m. to 1:00 a.m.
Tickets are $25 per person for dinner and dance ($15 for those who aren't attending but would like a chance at the door prize).
There will be a cash bar and silent auction, with special prizes for teens.
Pulkkinen said various local businesses have been stepping forward with prizes.
Tickets for the pasta dinner and dance fundraiser are available at locations such as Superior Heights Collegiate, Kackleberry's Cafe, Propane Plus and the Spinal Cord Injury Ontario office, with more possible locations in future.
For more on where to buy tickets or other information, you may contact Shirley Pulkkinen by email at benefitforjustin@yahoo.ca
"The other Moms and I that are involved with this (June Graham, Tammy Grawbarger and Kathryn Sousa), we didn't really know Justin's parents, but the other Moms and I used to drive Justin and our boys to school and field trips, so when this tragedy happened to Justin it was the first time I actually met his parents face to face after 16 years," Pulkkinen said.
"He's like one of our own kids, he's played in our yards and we've seen him at birthday parties, so we've watched him grow up and to see this happen, it's been really hard not only for Justin and his own family but also for his friends and the community."
A GoFundMe fundraiser has raised over $12,900 for Justin and his family since October.
Gerry said he and Carrie are appreciative for all the help.
"The Sault has always backed Sault people and they've proved it again, I've got to thank the Sault and all the population, all the businesses and everybody who's helped through fundraisers and other ways," Gerry said.
"We're looking forward to coming home for Christmas."
(PHOTO: Justin Williams is recovering after a serious, accidental shooting incident in October. Photo provided by Justin's father, Gerry Williams.)