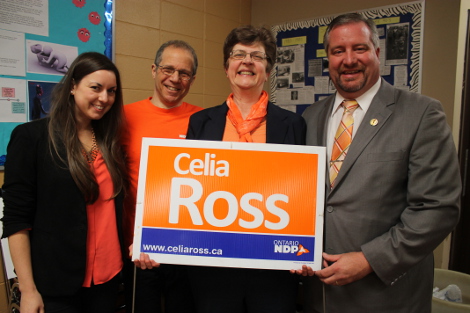 Celia Ross will be the NDP candidate for the Sault Ste. Marie riding in the next Ontario election.
About 25 party members gathered at the Sault Ste. Marie Soup Kitchen Community Centre Thursday evening to officially name Ross as their candidate.
Pictured are President of the Sault Ste. Marie Provincial NDP Riding Association Katie Elliott, well-known local labour leader Jeff Arbus, Ross, and NDP Algoma-Manitoulin MPP Michael Mantha.
There were no challengers to Ross for the nomination.
Dr. Ross, a Professor of French Literature at Algoma University, served as Algoma University College President beginning in 1998, her leadership a major factor in the postsecondary institution's successful campaign to acquire independent university status, as Algoma University, from the provincial government in 2008.
Ross stepped down as Algoma University President in 2010.
The next Ontario election will mark the second time Ross will be challenging incumbent Liberal Sault Ste. Marie MPP David Orazietti.
Ross placed second to Orazietti in the 2011 provincial election.
The next Ontario election is tentatively scheduled to be held October 1, 2015, but Premier Kathleen Wynne's Liberal minority government could fall at any time (possibly over its next budget), sending Ontarians to the polls.
"The election will happen when it happens but we need to be ready for it…it's not going to come easy, it's going to be a very tough battle", Mantha told Thursday evening's audience, encouraging party supporters to begin work now on the NDP's campaign in Sault Ste. Marie.
Referring to the Wynne government's 2013 budget, which passed with considerable input from Ontario NDP leader Andrea Horwath and her party, Ross said: "I think it is a tremendous credit to the NDP that they are giving the Liberals ideas and that they are getting good things into the budgets, but we need an NDP government."
Ross criticized the Liberals for "mismanagement" over the gas plant controversy, a seemingly stalled Northern Ontario Growth Plan, air ambulances, electronic health records, the need for more subsidized childcare spaces, and the need for lower electricity prices for consumers and businesses.
Referring to former New Democrat Sault MPP Tony Martin, who is currently recovering from a stroke, Ross said: "The best thing we can do for him is to do this work and do it really well and honour him that way…we will take this riding back again."
Speaking to SooToday.com, Ross said: "It seems Kathleen Wynne may be preparing for an election."
"I know that Andrea Horwath has always been ready to work with the Liberals, it depends on what's in the budget and if the Liberals are ready to work with us and I hope they are, because I believe in teamwork."
Ross said: "There are affordability issues of things like hydro for instance, which affect Sault Ste. Marie and the whole province."
"Conservative and Liberal governments in Ontario have not invested regularly into the infrastructure which supports our aging power grid…it's going to take large investments in future years to bring it back to where it should be."
"We're also producing lots of power, so how does it happen that our hydro rates are so high…it speaks to me of mismanagement."
Ross praised a proposal from the NDP for a Job Creation Tax Credit that would reimburse employers for 10 percent of the salary paid to a new hire during their first year of employment, up to a maximum of $5,000 per new hire.
"Large corporations are sitting on their money and not reinvesting in people…I think the Job Creation Tax Credit is a wonderful idea."
Ross said she will be meeting with community stakeholders and listening to their concerns in the run-up to the next election.