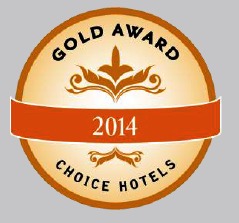 NEWS RELEASE
COMFORT SUITES
*************************
Team Q cheered on Team Jacobs and their win for gold at the 2014 Sochi Olympics while also conducting a celebration of their own.
Comfort Suites & Quattro Conference Centre was recipient of the 2014 Choice Gold Award.
The only Choice Hotel in Northern Ontario to receive this prestigious certification.
Winner of this award exceeded Choice Hotels' standards for Customer Service, Housekeeping and Product Quality.
Recipients are among the top hotels in the Choice Canada family of brands and these awards are a clear demonstration of a hotel's operational strength.
The news came to the delight of the Staff, Owners, Management Team and new General Manager, Mike Braykovich.
"This is truly great recognition for all of us and most importantly, it's a reflection of our genuine desire to make our guests stay more comfortable and more enjoyable. Congrats to Team Q!"
Comfort Suites has taken great strides to determine what makes our guests happy.
Inclusive of obtaining honest customer feedback through using various forms of social media, online surveys, trip advisor and other travel advisory sites, direct discussions and even winter travel to Northern Ontario destinations.
Transforming the feedback into guest satisfaction beyond expectations.
A venue that includes Quattro Conference Centre, the largest conference centre in Northern Ontario.
Quattro Chophouse + Bar, one of the top ranked restaurants in Sault Ste. Marie. Incredible amenities and full service onsite spa - Greenhouse Spa.
The Gold Award Ranking accompanies an overall ranking of 13th amongst 233 Choice Properties - Midscale Brands in Canada and the Second highest ranking in Ontario.
Winning an award such as this is a true testament to the hard work and dedication of the entire Q Family – including all of our Staff, Owners, General Manager & Management Team.
We accept the Gold and we will wear it proudly.
*************************