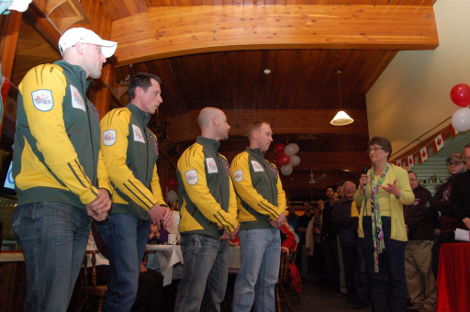 Less than two weeks from now, the talented Brad Jacobs rink will be back in the TV spotlight.
The 2013 Tim Hortons Brier champions will represent Canada at the Ford World Curling Championship that starts March 30.
Team Jacobs members were recognized today in the House of Commons when Sault MP Bryan Hayes made the following statement:
"Mr. Speaker,
For the first time since 1985 when skip Brad Jacobs was born, a team from Northern Ontario will represent Canada at the World Men's Curling Championship.

I would like to congratulate my riding of Sault Ste. Marie's Team Jacobs - Skip Brad Jacobs, Third Ryan Fry, Second E.J. Harnden and Lead Ryan Harnden - for their outstanding performance in winning the 2013 Brier and for being the first ever Brier Champions to come out of the Soo.

The Jacobs rink won their final 6 games becoming only the second rink since 1995 to come out of the 3-4 game to win the Brier.
In the playoffs they defeated Team Newfoundland and Labrador 6-5, Team Ontario 9-7, culminating in a resounding 11-4 victory in the final over Team Manitoba.
At 27, Brad Jacobs is the second youngest skip to win the Brier and also won the Hec Gervais award as Brier playoff MVP.

Team Northern Ontario's Team Canada Jacobs rink will now represent Canada at the World Curling Championships in Victoria, B.C. starting on March 30th.
I know all MPs in this House will be cheering Team Jacobs on to victory!"